Want to create your own online store without coding skills or technical expertise? No worries! An ecommerce website builder is here to save the day. It's a super powerful tool that allows business owners like you to build your online store hassle-free. Isn't that awesome?
In this article, we'll dive deep into the awesomeness of ecommerce website builders, exploring all the benefits and key features to keep an eye out for when choosing one. But wait, there's more! We'll also provide a juicy comparison of the top ecommerce website builders out there. Talk about being thorough!
So, buckle up and get ready for an ecommerce adventure like no other. Let's get started!
"Say Goodbye to Expensive Web Developers: These Ecommerce Website Builders Do It All"
Importance of Good Ecommerce Website Builder
Kettle and Fire, a thriving company specializing in bone broth products, exemplifies the transformative power of an ecommerce website builder on its online presence.
In the past, Kettle and Fire relied heavily on third-party marketplaces for product sales, relinquishing control over their brand image and having limited access to vital customer data.
However, their adoption of an ecommerce website builder enabled them to craft a unique online store that seamlessly embodied their brand identity. This immersive shopping experience resonated with customers, fostering loyalty and satisfaction. Moreover, the integration of advanced marketing and SEO tools afforded them heightened online visibility and the ability to captivate an expanding customer base.
By embracing the ecommerce website builder, Kettle, and Fire experienced a remarkable upswing in both online sales and revenue. Furthermore, this shift facilitated the acquisition of invaluable customer data and insights. Armed with these resources, the company became empowered to make informed business decisions and elevate the overall quality of its customer experience.
In summary, Kettle and Fire's successful utilization of an ecommerce website builder not only catalyzed their growth but also solidified their position as a leading force in the bone broth industry.
Understanding Ecommerce Website Builders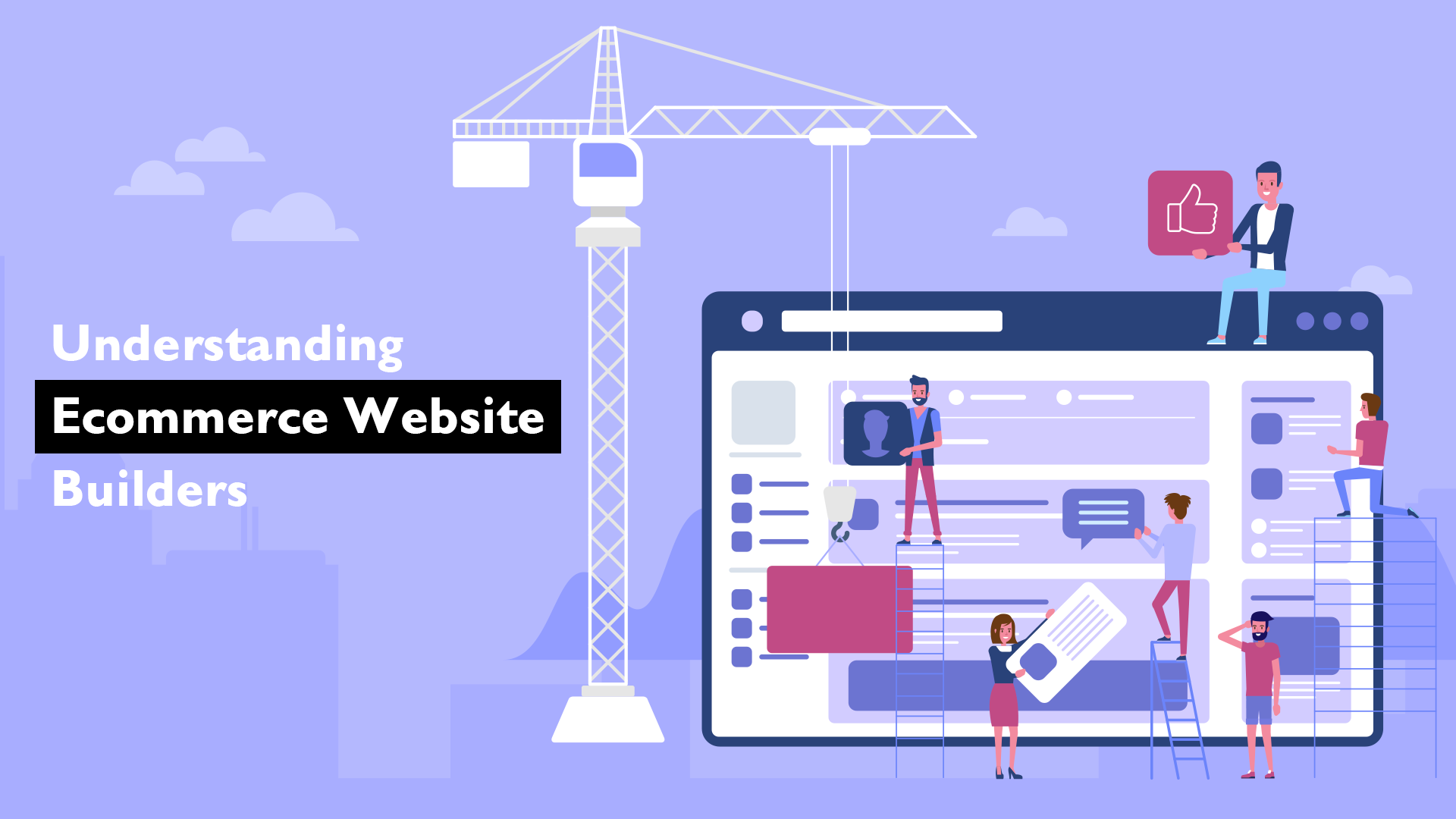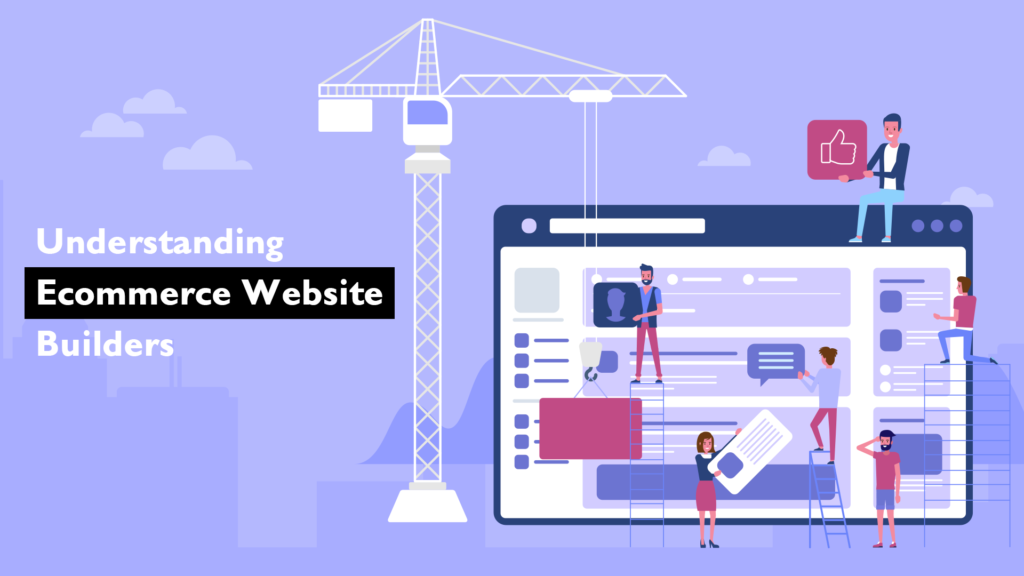 Work on Ecommerce Website Builders
Ecommerce website builders play a vital role in facilitating the creation and management of online stores for individuals and businesses, offering a platform that is both user-friendly and versatile.
To begin with, these builders provide a plethora of customizable templates and design options, granting users the ability to fashion a visually appealing online store that truly embodies their brand identity. By selecting from an array of layouts, colors, fonts, and images, users can curate a website that resonates with their target audience and reflects their unique brand persona.
Furthermore, ecommerce website builders equip users with an assortment of features and tools that empower them to efficiently oversee their online stores. These encompass tools for managing products, processing payments, calculating shipping fees and taxes, and implementing marketing and SEO strategies to drive customer traffic and engagement.
In addition, ecommerce website builders extend comprehensive customer support services, ensuring users can optimize their platform experience and promptly address any concerns that may arise. Such support services may comprise online tutorials, interactive forums, and dedicated customer service assistance.
Lastly, ecommerce website builders frequently furnish analytics and reporting tools, enabling users to monitor their online sales, delve into customer behavior patterns, and make data-driven business decisions in real-time.
In essence, the work of ecommerce website builders revolves around empowering individuals and businesses to effortlessly establish and maintain their own online stores, all while promoting accessibility and affordability. By providing a potent toolkit, these builders enable businesses of all scales to expand their reach, augment their revenue streams, and forge a robust online presence.
Ecommerce website vs Traditional website builders
Ecommerce Website Builders: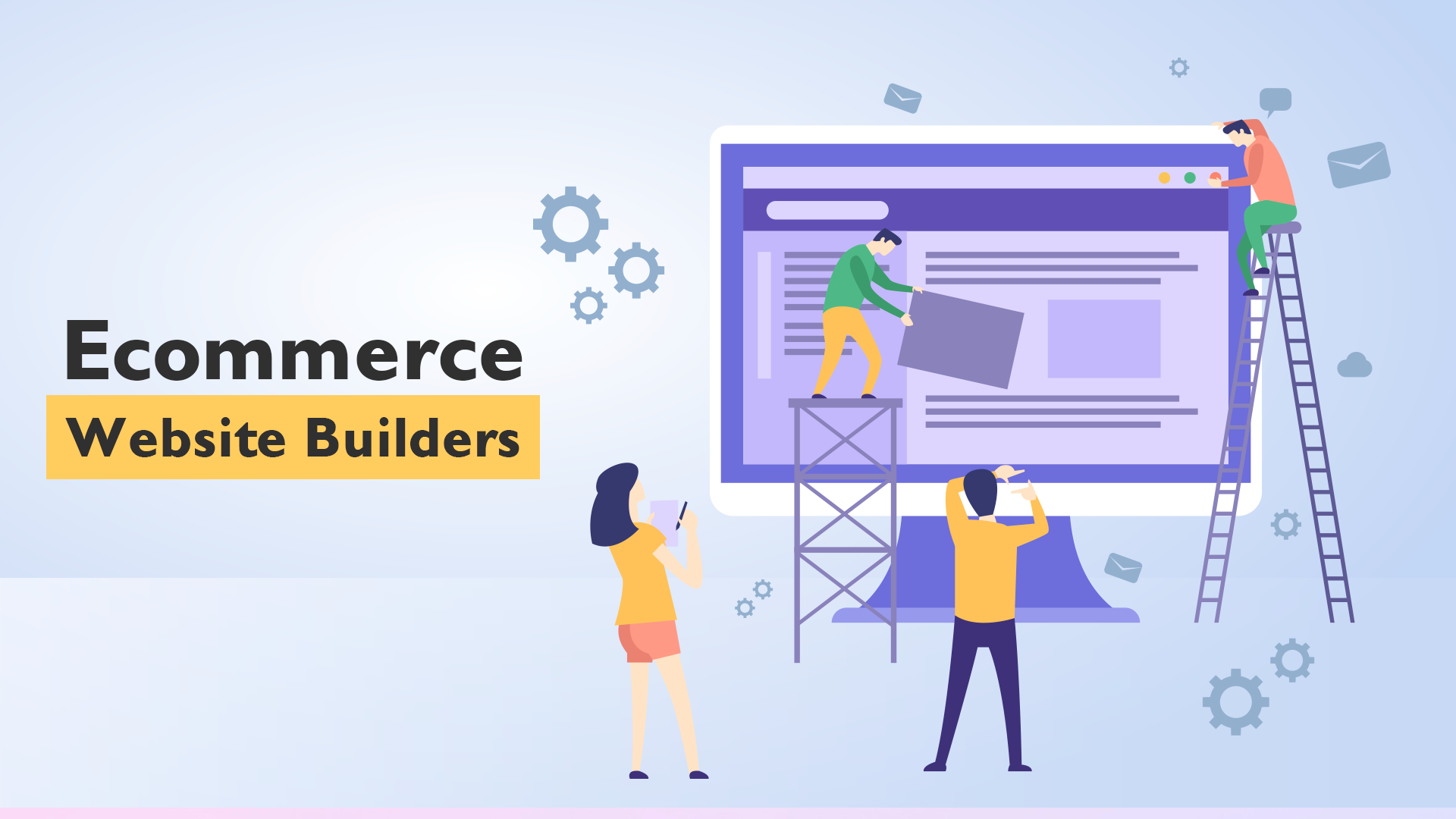 An ecommerce website builders emerge as specialized platforms meticulously crafted to construct dynamic online stores. With their repertoire of built-in features and tools, they empower users to effortlessly manage product catalogs, facilitate secure payment processing, streamline shipping logistics, and navigate the labyrinth of tax calculations. The beauty lies in the seamlessness of this process, obviating the need for users to delve into the realm of third-party plugins or grapple with endless customization to align the platform with their unique ecommerce requirements.
These remarkable builders go the extra mile by bestowing upon their users a plenitude of templates and design options, meticulously curated to cater to the ever-evolving demands of online stores. Additionally, they proffer a plethora of advanced marketing and SEO tools that are thoughtfully tailored to bolster the digital presence and visibility of online merchants. To further cement their value proposition, these builders often forge robust integrations with popular ecommerce platforms, including but not limited to industry behemoths like Amazon, eBay, and social media networks, thereby opening up new avenues for expansion and amplifying reach.
Traditional Website Builders: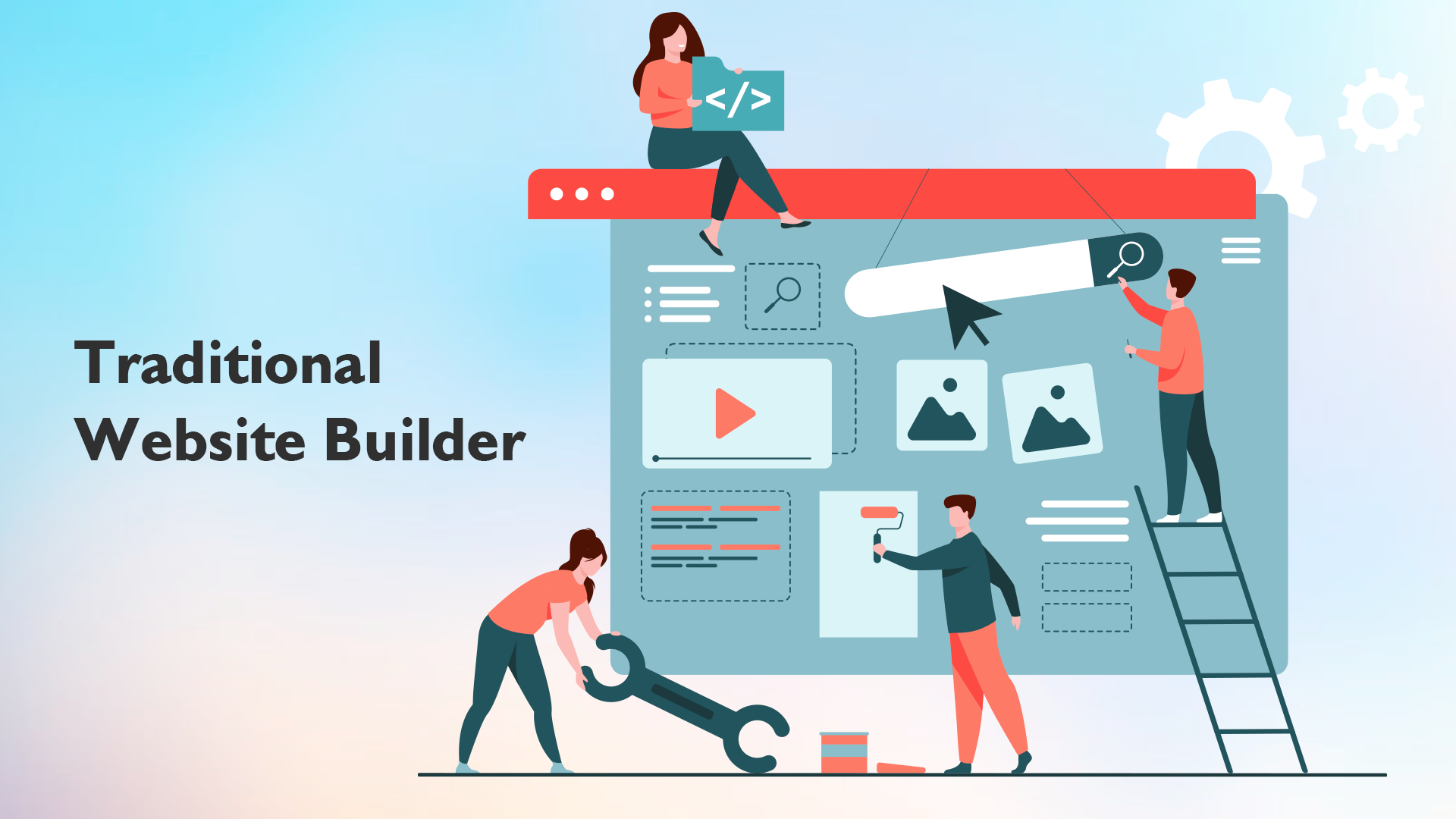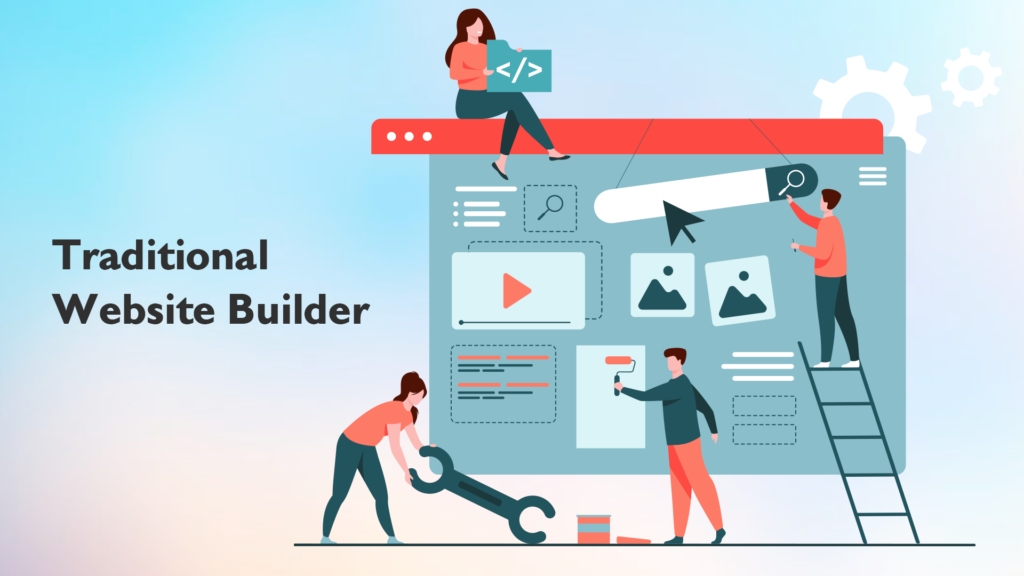 Traditional website builders encompass versatile platforms that facilitate the creation of various website types. Nevertheless, they may lack native functionalities for efficiently managing product catalogs, processing payments, organizing shipping logistics, and calculating taxes. As a result, users might find it necessary to integrate third-party plugins or customize the platform itself to align with their specific ecommerce requirements.
In contrast, traditional website builders offer a wider array of templates that may not be as meticulously optimized for ecommerce ventures. However, they do provide a broader spectrum of marketing and SEO tools that can be tailored and adapted to suit ecommerce purposes.
In summary, ecommerce website builders serve as an ideal solution for users aiming to establish a thriving online store, as they offer platforms explicitly designed to cater to their ecommerce demands. On the other hand, traditional website builders better suit users seeking to construct a multipurpose website, affording them the flexibility to incorporate ecommerce functionalities when needed.
Pros and cons of using an ecommerce website
Advantages of Utilising Ecommerce Website
Enhanced User-Friendliness: Ecommerce website builders excel in their user-friendly interfaces, eliminating the need for coding expertise. This accessibility widens the user base and encourages effortless navigation.
Integrated Functionality: It provides a comprehensive array of features for efficiently managing product catalogs, payments, shipping, and tax calculations. This integrated functionality streamlines operations, saving valuable time and effort.
Diverse Design Possibilities: It presents a diverse selection of templates and design options explicitly tailored for online stores. This versatility allows users to effortlessly create visually appealing, professional-grade stores without necessitating design prowess.
Scalability: Having seamlessly accommodate business growth. With the ability to effortlessly add products, features, and functionalities as needed, they adapt to the expanding demands of a flourishing enterprise.
Drawbacks of Utilizing Ecommerce Website
Limited Customization: Despite offering design options and templates, ecommerce website builders may impose constraints on customization. This limitation poses challenges in crafting a distinctive store that distinguishes itself from competitors.
Higher Expenses: Ecommerce website builders often entail higher monthly or annual fees compared to conventional website builders. This financial commitment can be burdensome for small businesses, exerting a strain on their resources.
Platform Dependence: Utilising ecommerce website builders necessitates ongoing subscription fees for continued access to their services. Consequently, migration to alternative platforms becomes impractical, potentially restricting flexibility and freedom.
Feature Limitations: While ecommerce website builders incorporate fundamental features for managing product catalogs, payments, shipping, and tax calculations, they may lack the advanced functionalities required by larger or more intricate stores.
In conclusion, ecommerce website builders provide an accessible and user-friendly solution for establishing an online store. They encompass integrated features and design options tailored for online stores while facilitating scalability. However, limitations in customization, higher costs, and restricted advanced features compared to traditional website builders should be considered.
Key Features of Ecommerce Website Builders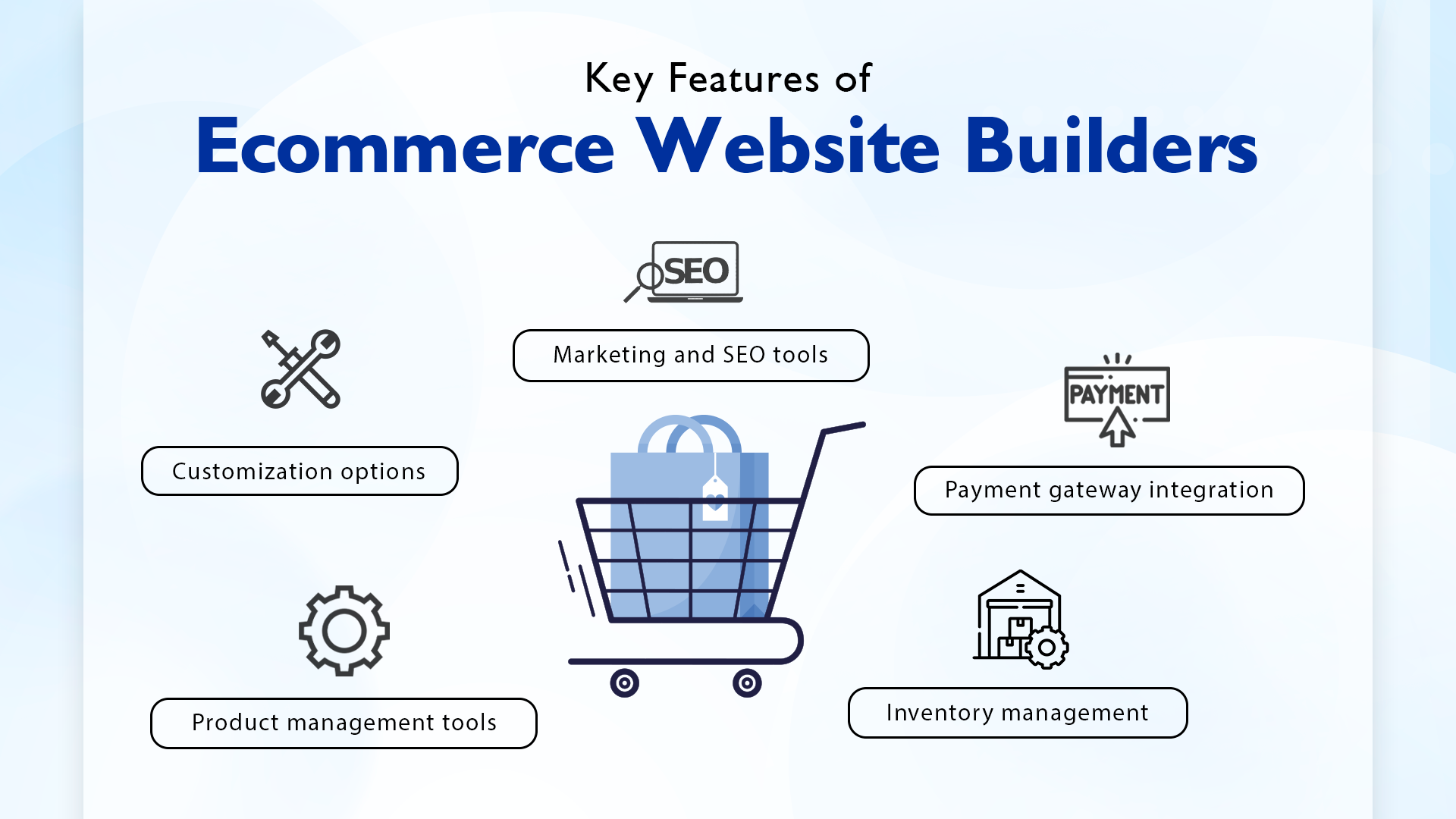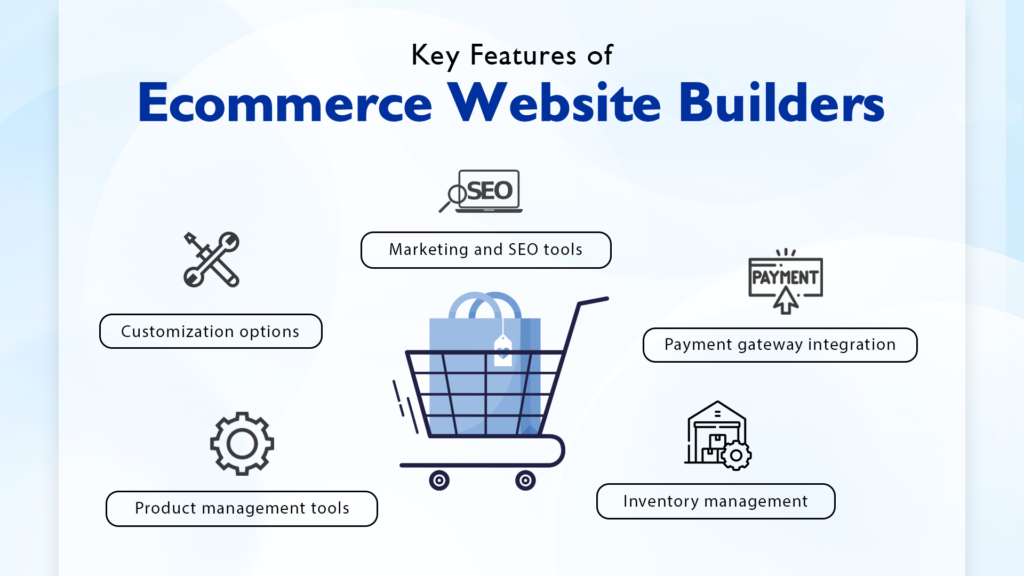 Customization options
Customization options encompass the ability to modify and personalize the design, functionality, and features of a website, empowering users to tailor their online presence according to their unique preferences and needs. This flexibility allows for a more distinctive and individualized website. The range of customization options available may differ based on the chosen website builder platform.
To illustrate, if you opt to employ a website builder for establishing an online store for your business, customization options will prove invaluable in adapting the template to align with your brand's specific colors and fonts. Furthermore, you can incorporate your logo, customize the layout to suit your requirements and add or remove pages as necessary. Additionally, the navigation menu can be adjusted, and features such as customer reviews, social media integration, and a blog can be included to further personalize your online store.
Such customization options play a vital role in forging a unique and personalized online store that distinguishes itself from competitors, thereby facilitating the attraction and retention of customers. However, it is essential to note that the extent of available customization options can vary depending on the chosen website builder platform.
Payment gateway integration
The integration of payment gateways involves establishing a connection between an ecommerce website and a payment process or, enabling customers to securely make online payments for products or services. This integration necessitates the setup of a payment gateway, acting as an intermediary between the ecommerce website and the customer's bank or credit card company.
When a customer initiates a purchase on an ecommerce website, the payment gateway securely processes the transaction and verifies the customer's payment information. Upon authorization of the payment, funds are transferred from the customer's account to the merchant's account. This rigorous process ensures the safety, security, and efficiency of transactions.
Most ecommerce website builders offer built-in payment gateway integrations, simplifying the acceptance of online payments without the need to establish a separate payment gateway account. Well-known payment gateways such as PayPal, Stripe, and Square are commonly supported. Through the integration of a payment gateway, ecommerce businesses can boost sales and provide a convenient and streamlined shopping experience for their customers.
Product management tools
Product management tools encompass the features and applications provided by ecommerce website builders that assist businesses in effectively managing their online product listings. These tools enable users to upload, organize, and maintain their products, including descriptions, images, pricing, and inventory levels.
Typical product management tools offered by ecommerce website builders encompass the ability to create product categories, configure variations such as color or size options, track inventory levels, and manage shipping and tax settings. By utilizing these tools, businesses can easily oversee their products and ensure that their online store remains current and operational.
Inventory management
Inventory management entails the oversight and control of a business's stock of products. This involves monitoring inventory levels, tracking product sales, and forecasting future demand, ensuring that the business maintains an appropriate quantity of stock at all times.
Effective inventory management assists businesses in optimizing their stock levels, minimizing waste and stockouts, and enhancing profitability. It also streamlines the ordering process and reduces the time and resources required for inventory management.
In the context of an ecommerce website builder, inventory management features may include real-time inventory tracking, low stock alerts, and automatic adjustment of stock levels during order processing. These features enable ecommerce businesses to consistently meet customer demand by ensuring they possess adequate stock.
Marketing and SEO tools
Marketing and search engine optimization (SEO) tools encompass a vast array of functionalities and features offered by website builders, catering to the diverse needs of businesses. Their primary objective revolves around facilitating the promotion of websites and enhancing their visibility on search engine results pages (SERPs).
In the realm of marketing, these tools often go beyond the surface level, providing seamless integrations with email marketing platforms, social media channels, and a plethora of advertising options such as Google Ads and Facebook Ads. By harnessing the power of these tools, businesses can strategically target their desired audience through multiple avenues, thereby exponentially augmenting their brand recognition.
Conversely, SEO tools exclusively zero in on optimizing a website's position on search engine results pages. They typically equip businesses with invaluable capabilities for conducting comprehensive keyword research, offering insightful suggestions for enhancing on-page content and encompassing cutting-edge features to diligently monitor backlinks. By meticulously optimizing their websites for search engines, businesses can effectively bolster their online visibility and entice a steady stream of organic traffic.
Particularly within the context of an ecommerce website builder, marketing and SEO tools assume paramount significance for businesses aspiring to channel traffic and drive sales through their online stores. These invaluable tools empower businesses to fortify their digital presence, captivate an expansive pool of potential customers, and ultimately amplify their revenue streams with resounding success.
Read more: Best Ecommerce Website Builder
Top Platforms for Building Websites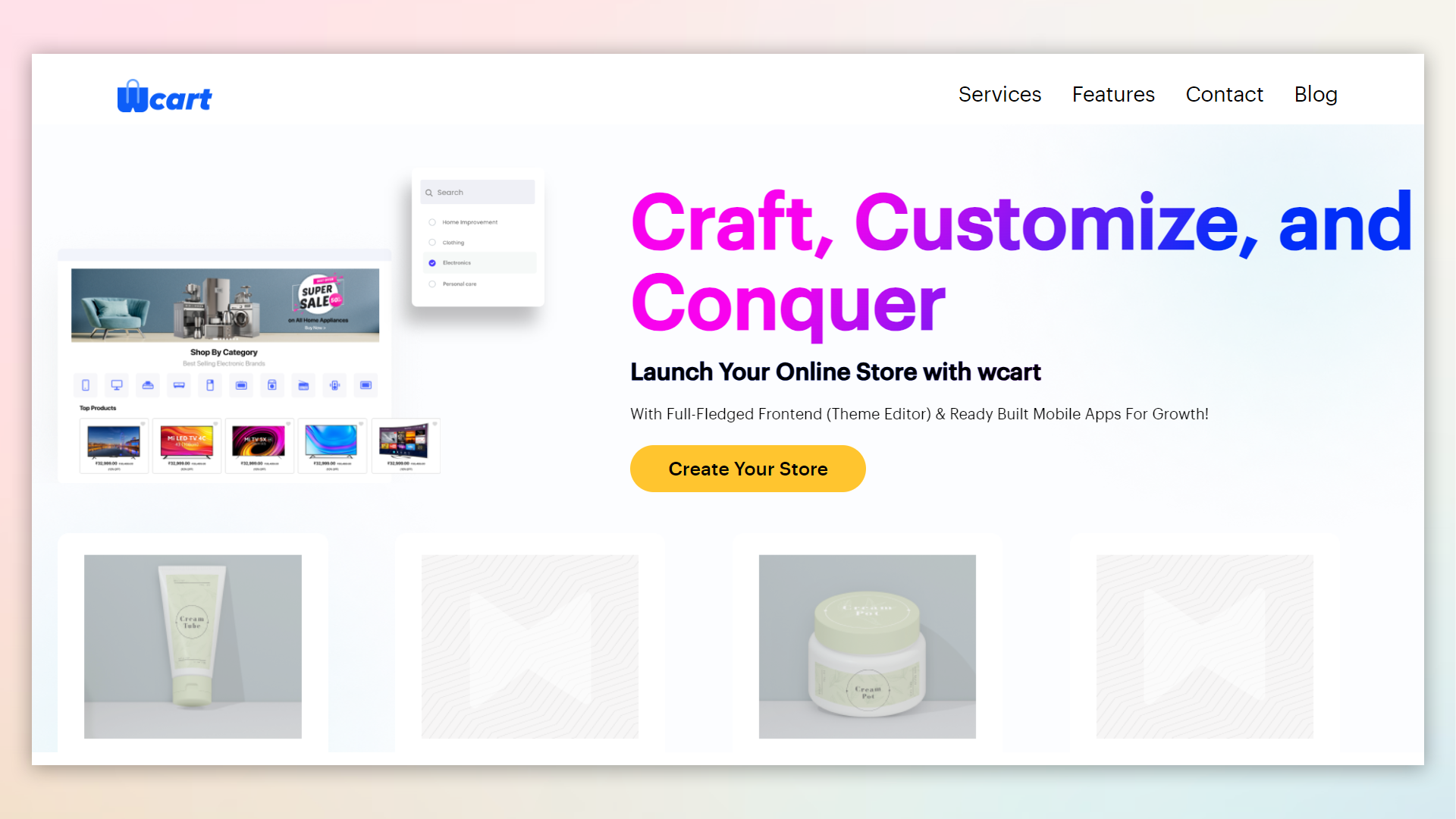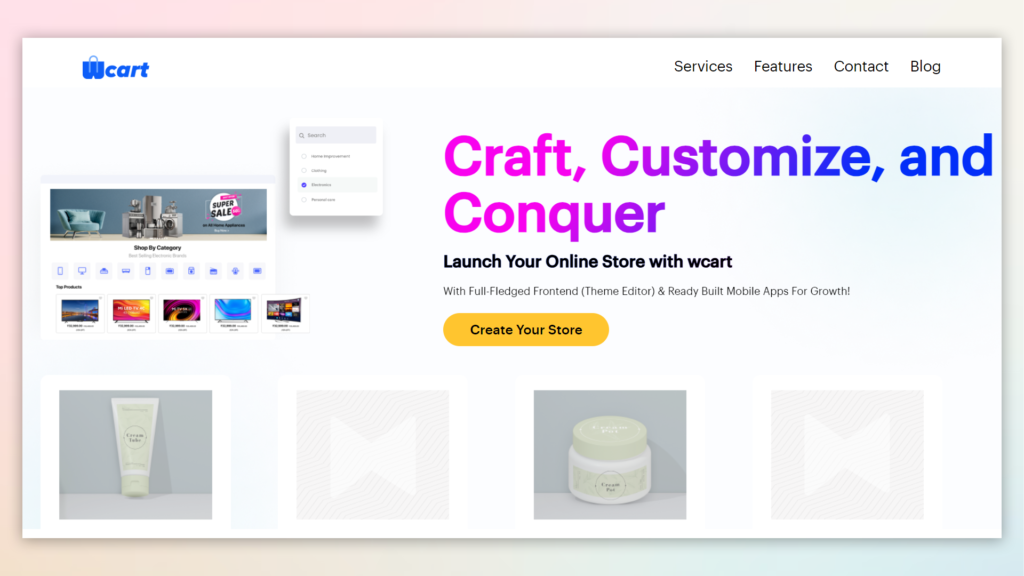 Wcart stands out as an excellent option for both budding entrepreneurs and small-scale business owners seeking to establish an online store without the need for extensive technical know-how. This platform presents a diverse range of features aimed at enabling you to personalize your website effortlessly. With its array of templates and a user-friendly drag-and-drop editor, Wcart empowers you to tailor your online store to your specific requirements.
Furthermore, Wcart goes above and beyond by providing an assortment of payment and shipping alternatives, along with comprehensive support for multiple languages and currencies. However, what truly distinguishes Wcart is its exceptional commitment to customer assistance. This unparalleled level of support encompasses prompt email and phone guidance, a comprehensive knowledge base, and enlightening video tutorials, ensuring that you receive all the guidance you need.
In conclusion, Wcart emerges as a cost-effective and user-friendly online store builder that equips you with all the necessary tools to establish and expand your online business. Its ability to introduce perplexity and burstiness into your content, coupled with its relatively low predictability, makes it a remarkable choice for creating engaging and captivating written material.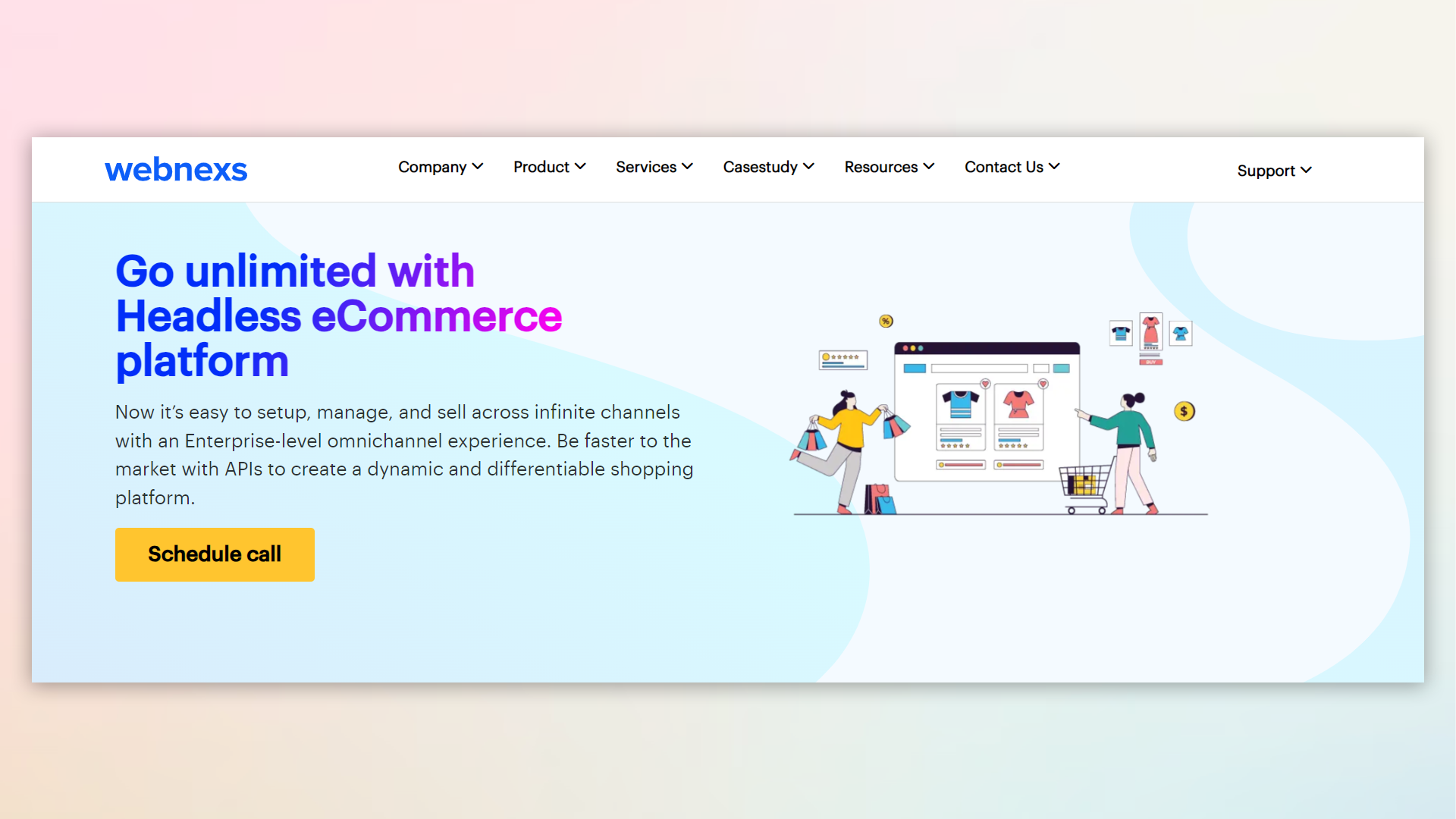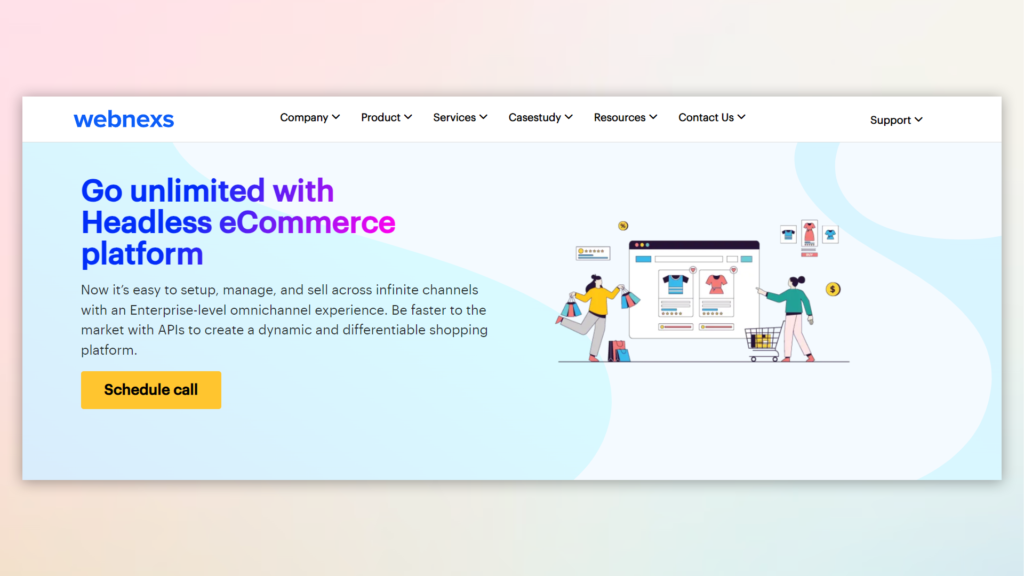 Webnexs emerges as a dynamic powerhouse in the realm of online store builders, empowering businesses of all magnitudes to forge and govern their virtual emporiums. This multifaceted platform thrives on an assortment of cutting-edge functionalities and resources, amplifying the prospects of customizing and individualizing your digital storefront. Seamlessly intertwining with leading payment gateways and shipping providers, Webnexs facilitates an unrivaled user experience.
Beyond its robust gamut of customization capabilities, Webnexs houses an impressive suite of marketing and search engine optimization (SEO) tools, a veritable arsenal for enterprises aiming to entice and nurture a devoted clientele. Email marketing campaigns seamlessly integrate with the platform, while social media integration enables unparalleled outreach. Moreover, Webnexs equips businesses with the means to optimize their online presence, ensuring prominent visibility in the vast expanse of search engine results.
In essence, Webnexs stands tall as the pinnacle choice for enterprises yearning for an all-encompassing online store builder, brimming with an extensive repertoire of features and tools meticulously curated to administer and embellish their digital retail domains. Boasting customizable options, augmented by an assortment of marketing and SEO apparatuses, Webnexs solidifies its position as the undisputed champion among the fraternity of online store builders.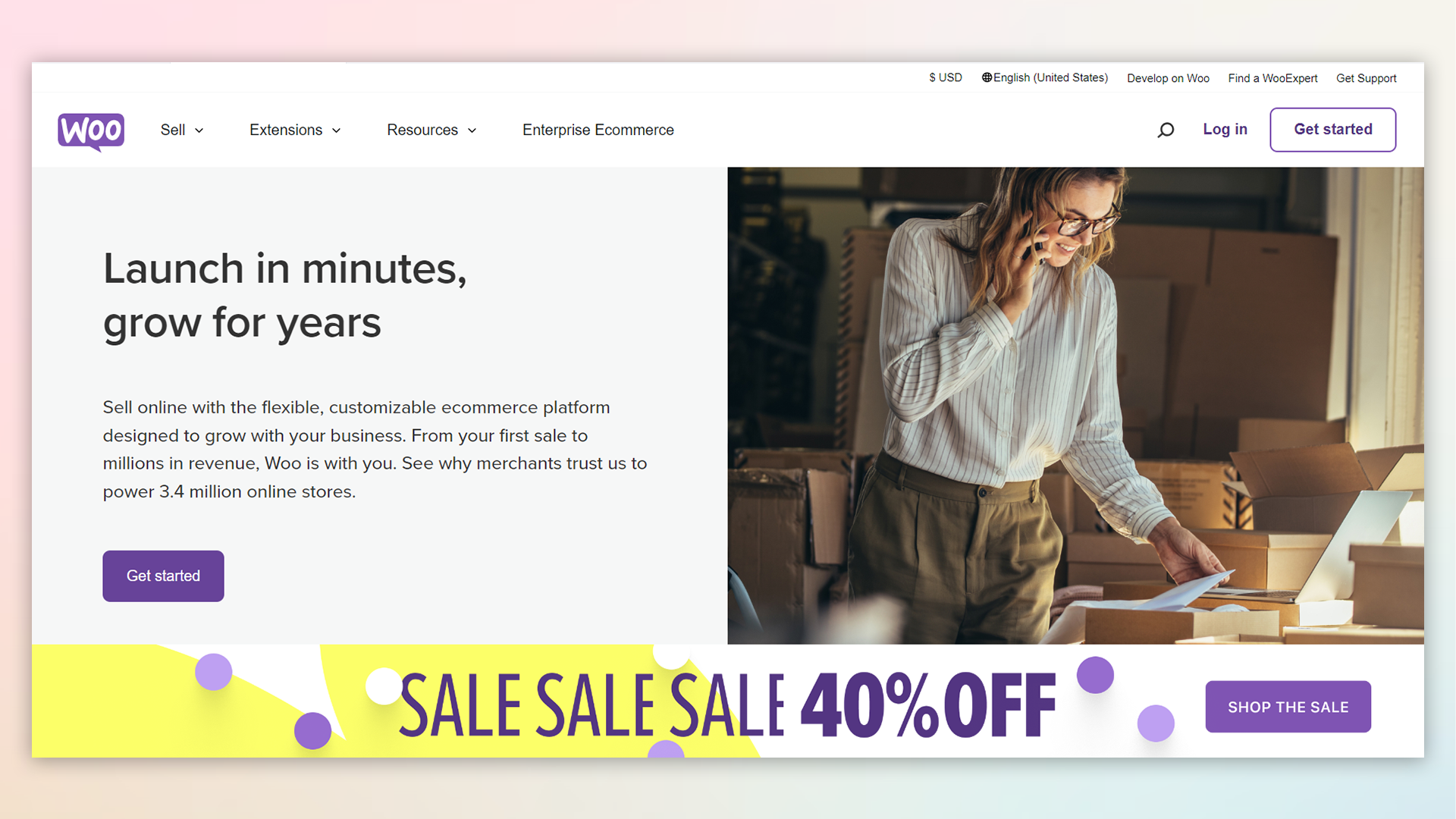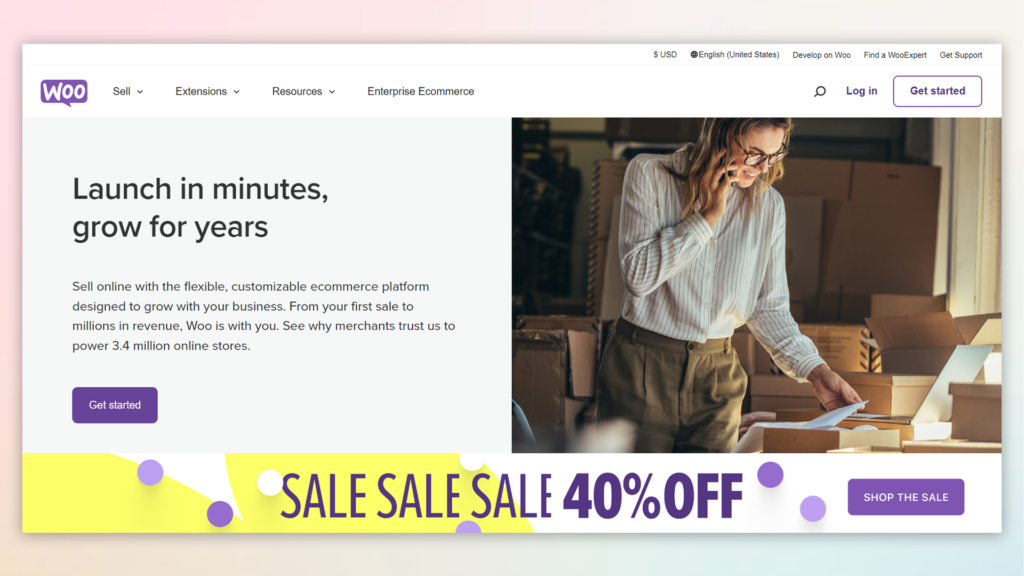 WooCommerce, an innovative open-source e-commerce solution, seamlessly integrates with the renowned WordPress platform. Offering unparalleled flexibility and customization options, it empowers businesses to establish and efficiently manage their online stores. Delving deeper, WooCommerce encompasses a visually captivating user interface, a plethora of customizable themes, and a rich assortment of plugins and extensions that augment your online store's functionality. Furthermore, the platform's cutting-edge analytics and reporting tools facilitate effortless monitoring and optimization of your online store's performance.
Unveiling its true prowess, WooCommerce's user-friendly interface stands as a prominent feature. Simplifying the management of your online store, it facilitates seamless processes such as product addition, inventory management, and order processing. In addition, the platform equips you with comprehensive analytics and in-depth reports, empowering you to meticulously track and fine-tune your online store's performance.
Read More: To Know About Woocommerce Alternatives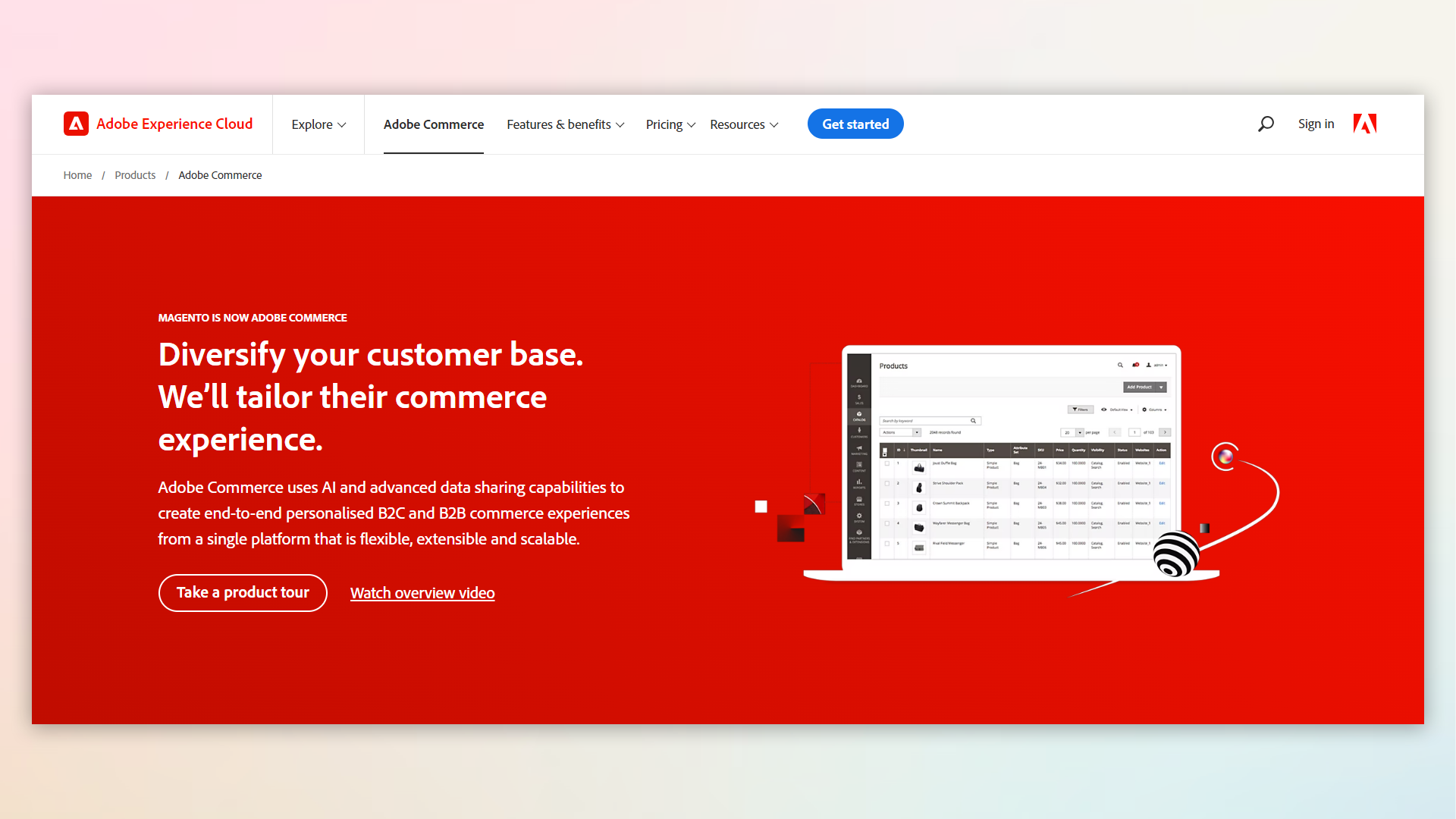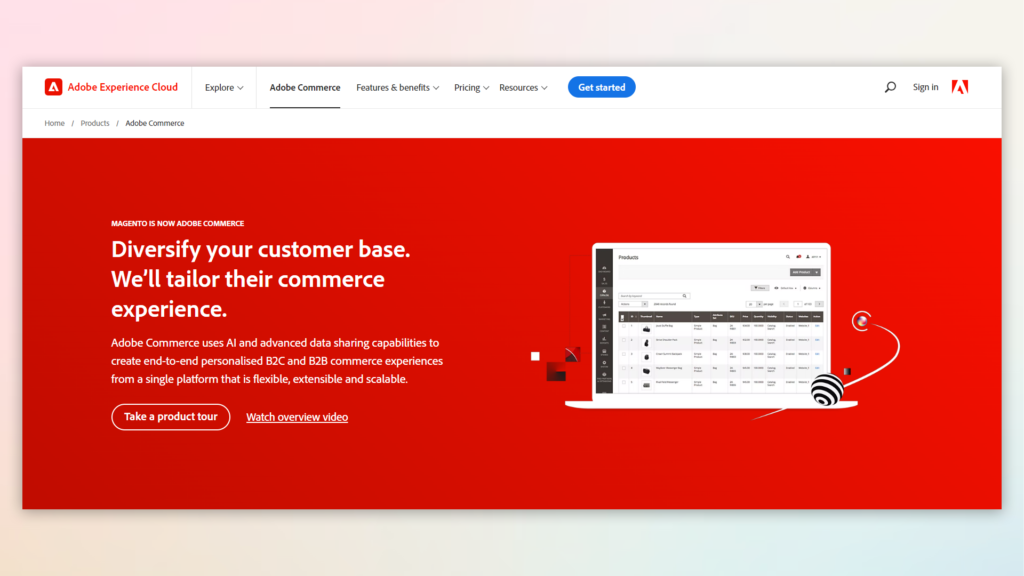 Magento, an incredibly versatile and expandable e-commerce platform, emerges as a powerhouse in the realm of open-source solutions. Boasting an extensive repertoire of functionalities, it empowers businesses to effortlessly forge and oversee their digital storefronts. Notably, it propounds an eclectic array of payment and shipping alternatives, seamlessly integrating with renowned gateways and carriers.
Setting itself apart, Magento commands attention with its formidable arsenal of search engine optimization (SEO) tools. These tools equip you with the means to optimize your online emporium for prominent search engine rankings. Meta tags, URL rewrites, and site maps headline a plethora of features geared toward enhancing your store's visibility and driving unrivaled traffic.
Tailoring its offerings to diverse needs, Magento presents an enticing medley of pricing options. A Community edition, available at no cost, coexists harmoniously with the paid Enterprise and Cloud editions. Embracing the paid alternatives unlocks supplementary features and support, rendering them ideal for ambitious enterprises grappling with intricate requirements.
Read More: To Know About Magento Alternatives
How to Build an Ecommerce Website with an Ecommerce Website Builders
A step-by-step guide to building an ecommerce website
Here, you will find a comprehensive, step-by-step guide that will aid you in the construction of your very own ecommerce website:
1: Choosing the perfect ecommerce platform: Commence your journey by carefully selecting an ecommerce platform that aligns seamlessly with your unique requirements. Among the popular options available, you may consider Shopify, WooCommerce, or Magento.
2: Handpicking a domain name and web hosting: Begin by selecting a memorable domain name that aptly reflects your brand's identity. Subsequently, opt for a web hosting provider that effectively caters to your website's specific needs.
3: Selecting an ideal template or theme: Dive into the process by handpicking a visually appealing template or theme that harmonizes with your brand's aesthetic. Ensure it encompasses the essential features and functionalities essential for your venture.
4: Personalizing your website: Unleash your creativity and tailor your website to reflect your brand's essence. Add your logo, experiment with colors and fonts, and meticulously construct pages and product listings.
5: Configuring payment and shipping options: Tailor your website to accommodate your desired payment and shipping methods. Integrate them seamlessly into your website to enhance user experience.
6: Testing: To ensure optimal functionality across all features and components, subject your website to thorough testing.
7: Launching: With testing successfully accomplished, it is now time to unveil your website to the world and initiate targeted promotional efforts directed toward your intended audience.
8: Monitoring: Continuously monitor your website to assess key performance metrics such as traffic, sales, and customer engagement.
By adhering diligently to these sequential steps, you will be empowered to construct a remarkable ecommerce website that caters impeccably to your business requirements and retains customers in the process.
Read More: To Get an Idea for Starting an Ecommerce Business
Common mistakes to avoid
When embarking on the creation of an ecommerce website, it is crucial for businesses to steer clear of various prevalent errors in order to guarantee the success of their online platform. These blunders encompass:
Navigation woes: A convoluted or intricate navigation structure can vex users, leading them to abandon your website. Ensure that your navigation is lucid and user-friendly, and aids visitors in swiftly finding what they seek.
Sluggish loading speed: Users anticipate swift loading times, and a sluggish website can result in high bounce rates and lost sales. Enhance your website's speed by compressing images, minimizing code, and opting for a dependable hosting provider.
Insufficient mobile responsiveness: Given the substantial number of users accessing ecommerce websites via their mobile devices, optimizing your website for mobile usage is paramount. Neglecting mobile responsiveness can culminate in a subpar user experience and missed sales opportunities.
Inadequate product information: Customers necessitate comprehensive details about the products they contemplate purchasing. Ensure that your product descriptions are thorough, accurate, and accompanied by high-quality images that showcase the merchandise effectively.
Concealed or ambiguous pricing: Customers should be able to locate pricing information effortlessly, and it should be presented in a transparent and unambiguous manner. Hidden fees or unclear pricing can erode trust and result in lost sales.
Flawed checkout process: A convoluted or bewildering checkout process can prompt cart abandonment and lost sales. Prioritize a streamlined, secure, and user-friendly checkout procedure, providing multiple payment options to enhance convenience.
Finally, by sidestepping these common pitfalls and concentrating on the creation of a user-friendly and reputable ecommerce website, businesses can bolster their prospects for success in the fiercely competitive online marketplace.
Conclusion
Creating a thriving online store presents its fair share of hurdles, yet enterprises can conquer these challenges by adhering to proven methods and sidestepping prevalent pitfalls. Primarily, prioritizing user experience, design, and security takes precedence. Furthermore, incorporating impactful marketing and SEO techniques can allure and maintain a loyal customer base.
By adopting an astute mindset and meticulousness, businesses can harness the potential of e-commerce to stimulate expansion and triumph in the contemporary digital arena.
Frequently Asked Questions(FAQs)
1. What is an ecommerce website builder?
An ecommerce website builder is a tool that allows users to create an online store without the need for extensive coding knowledge. It provides a user-friendly interface to design, customize, and launch an ecommerce website.
2. What are the benefits of using an ecommerce website builder?
Using an ecommerce website builder allows users to save time and money as it eliminates the need for extensive coding knowledge or hiring a web developer.
3. How do I choose the right ecommerce website builder for my business?
To choose the right ecommerce website builder, consider your budget, website design preferences, desired features and functionalities, and ease of use.
4. What are the mistakes to avoid when building an ecommerce website?
Some common mistakes to avoid include poor website design, inadequate product descriptions, slow loading times, and limited payment and shipping options
5. Which ecommerce website builders are the best?
Some of the top ecommerce website builders in the market i.e. Wcart, Webnexs, WooCommerce, and Squarespace.