Are you searching for an ecommerce platform to support your online business growth? The importance of choosing the right platform cannot be exaggerated, especially considering the staggering projected global ecommerce sales of $5.9 trillion in 2023, showcasing an impressive growth rate of 8.9%. While Prestashop remains a favored option many businesses, regardless of their size, have displayed a keen interest in exploring alternatives to the PrestaShop platform.
It is essential to recognize that Prestashop might not perfectly align with the requirements of every company. Fear not, as we have got you covered with a comprehensive compilation of the top 5 Prestashop alternatives. This list will equip you with the necessary insights to make an informed decision that suits your specific needs and aspirations.
What is PrestaShop?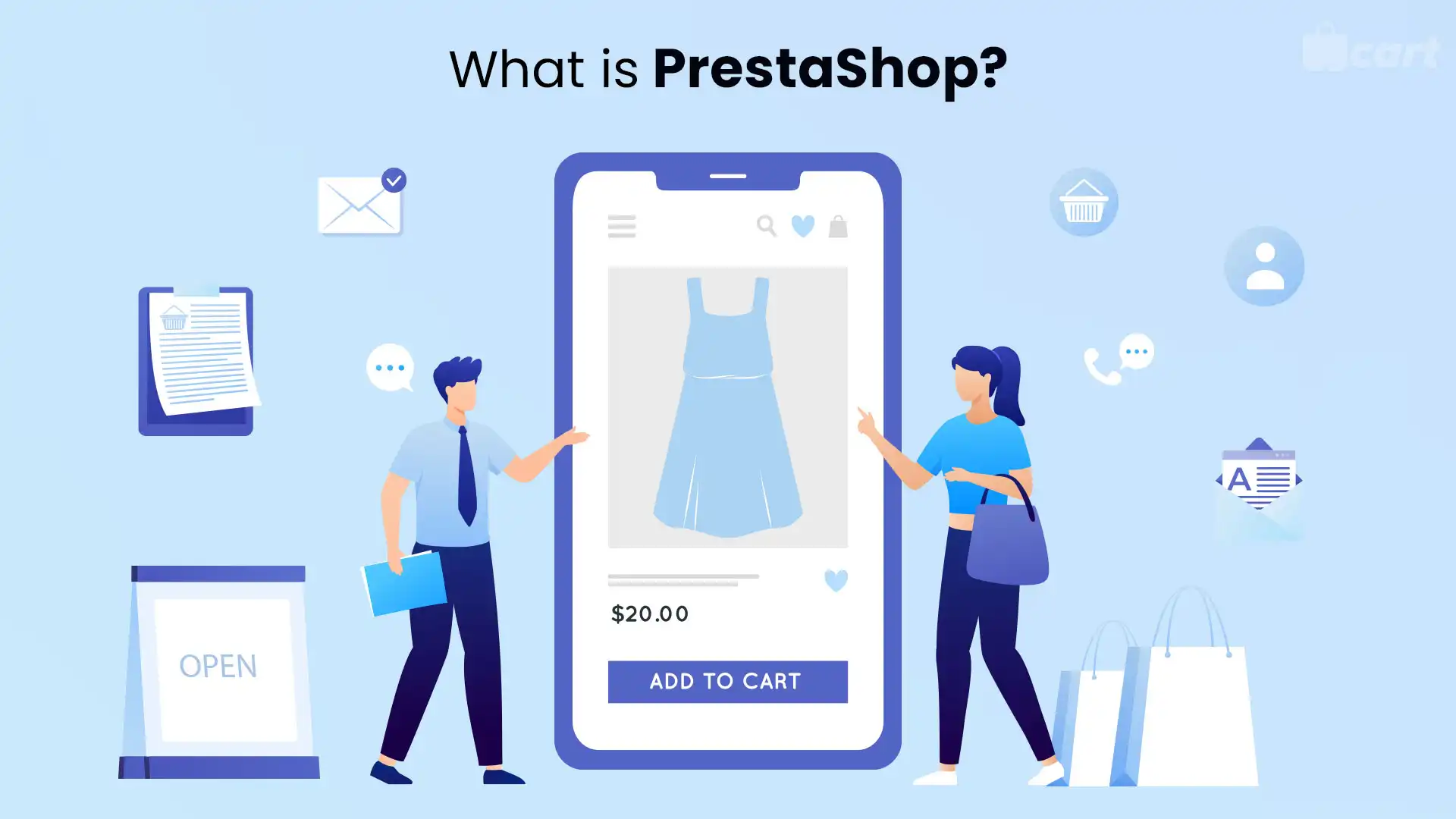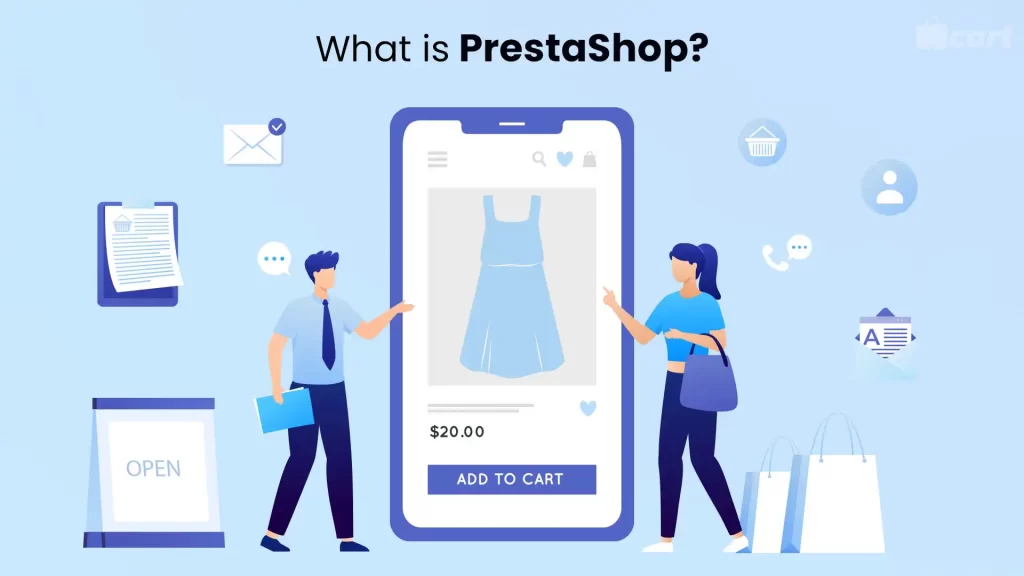 PrestaShop is a dynamic open-source ecommerce platform empowering businesses to establish and oversee captivating online stores. With its inception dating back to 2007, this remarkable platform swiftly garnered favor among small to medium-sized enterprises seeking to make their mark in the digital realm. Boasting an extensive repertoire of functionalities, PrestaShop enables seamless product management, order administration, and payment processing, nurturing a streamlined business ecosystem.
Its interface, characterized by its user-friendly nature, amplifies convenience, while a vast community of passionate users continually fosters innovation through the creation and exchange of add-ons and themes. Remarkably versatile, PrestaShop transcends linguistic barriers, supporting over 75 languages and embracing a global presence with over 300,000 online stores making it their trusted ally.
Reason For Why Every Ecommerce Business Need PrestaShop Alternatives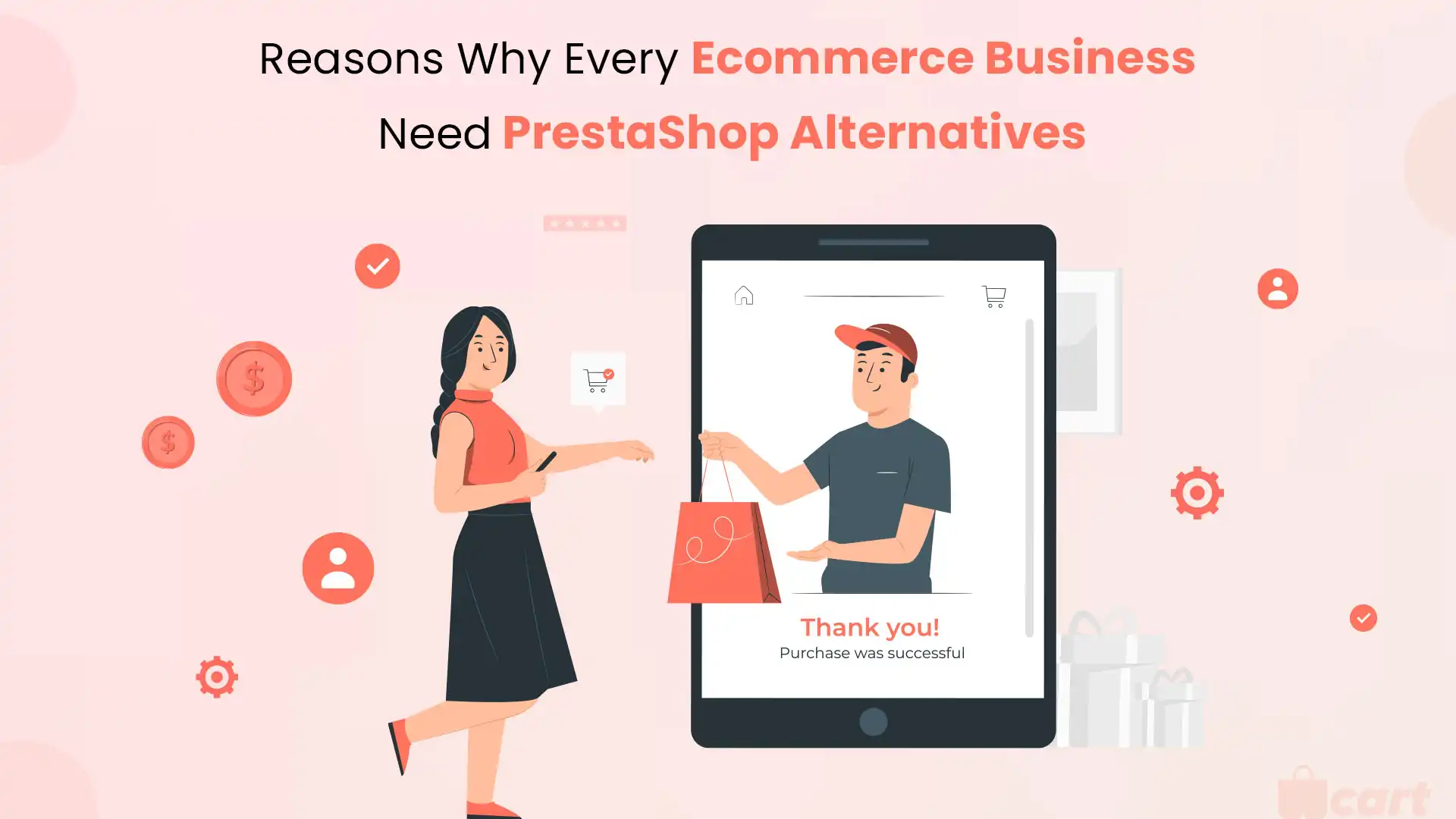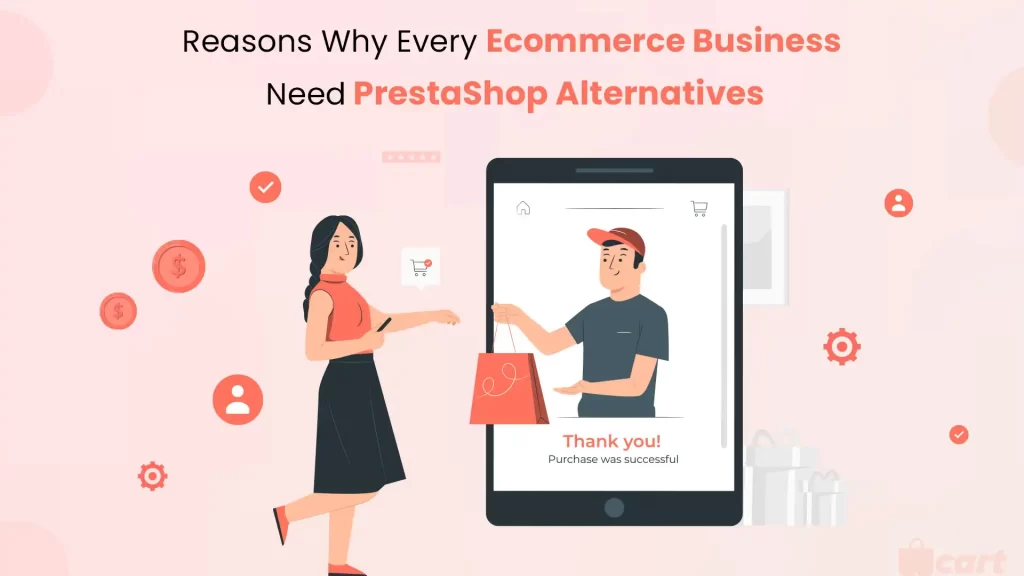 PrestaShop, being a popular ecommerce platform, may not always align perfectly with every business. Here is a myriad of reasons why one might contemplate exploring alternative options:
Unraveling complexity: Although PrestaShop boasts a generally user-friendly interface, it might appear more intricate compared to some alternative solutions. Individuals venturing into ecommerce for the first time or lacking technical expertise might encounter hurdles along the way.
Unleashing creativity: While it does offer an extensive assortment of themes and add-ons, certain users might discover that the customization options provided do not fully cater to their distinctive requirements. Other platforms may present more versatile design possibilities.
Budget considerations: PrestaShop itself is a cost-free platform, but users could potentially face supplementary expenses for hosting, add-ons, and payment processing. Alternative platforms may propose more pocket-friendly alternatives, accommodating businesses with tighter budgets.
Feature assortment: PrestaShop presents an array of features, yet other platforms might offer specialized functionalities that better suit specific business needs. For instance, certain platforms might excel in international shipping solutions or cater to subscription-based services more effectively.
All-encompassing evaluation: It remains crucial for businesses to meticulously evaluate their particular needs and preferences when selecting an ecommerce platform. Exploring all available options, including alternatives to PrestaShop, ensures a comprehensive decision-making process.
5 Best PrestaShop Alternatives To Consider For Your Ecommerce Business
There are several platforms available for PrestaShop alternatives; let us have a look at the leading platforms one by one.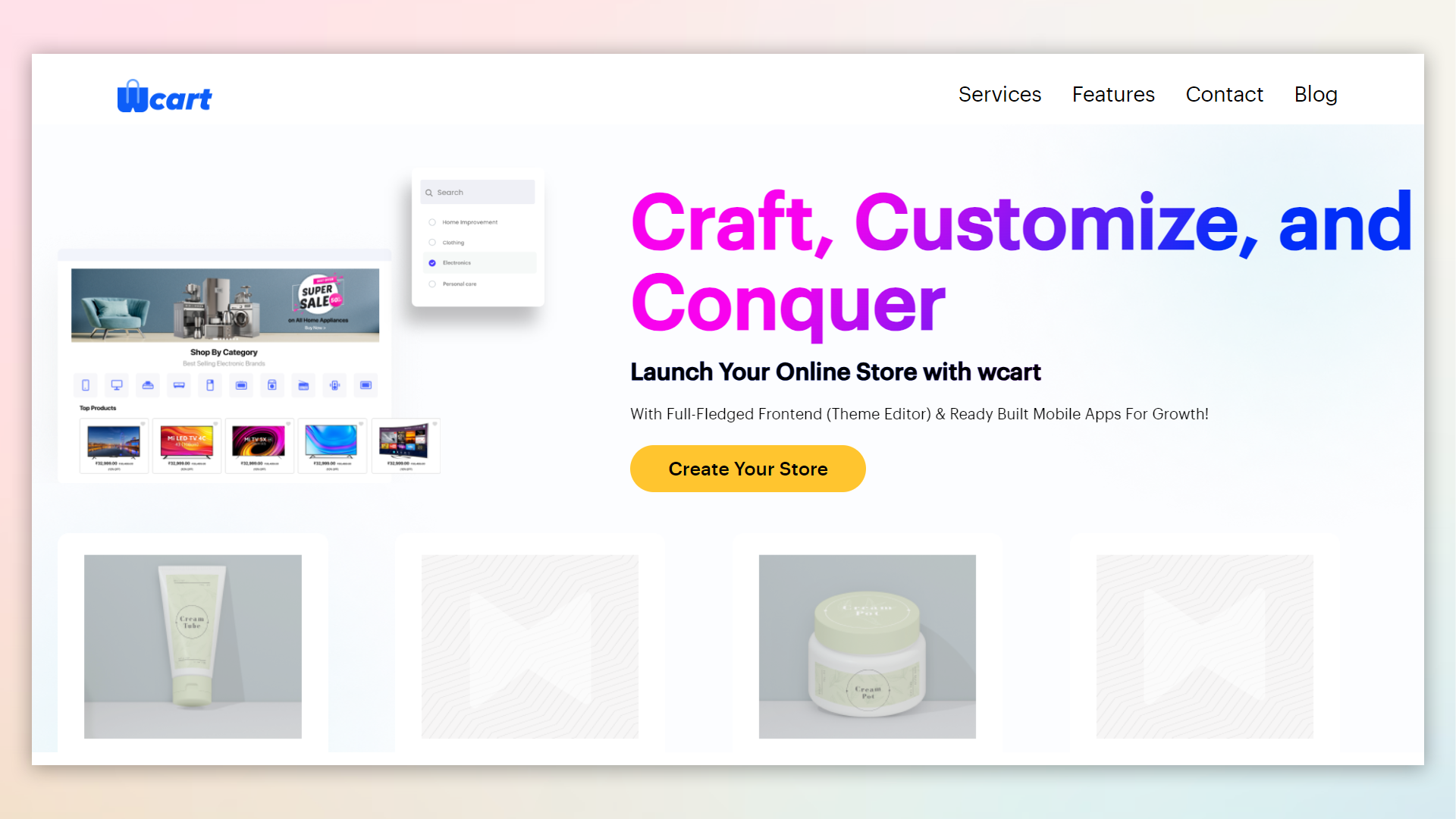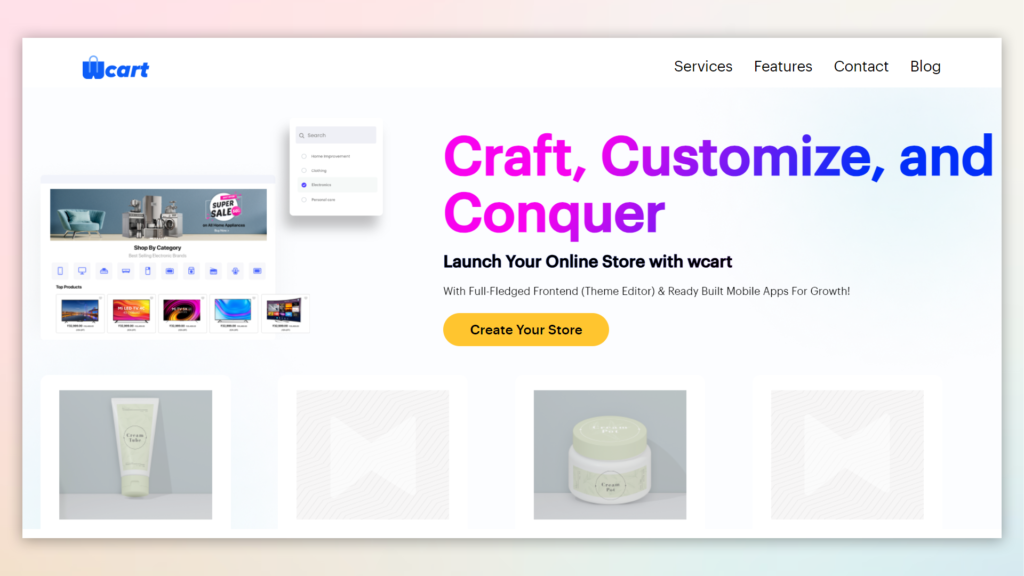 Wcart, an innovative cloud-based ecommerce platform, revolutionizes online business by presenting a dynamic and adaptable alternative to PrestaShop. With its intuitively designed interface and an ingenious website builder that operates on a drag-and-drop mechanism, businesses can swiftly craft and unleash their very own digital emporium.
Unveiling its exceptional offerings, Wcart also presents an enticing opportunity for businesses through a complimentary trial period, enabling them to embark on an exploratory journey with the platform prior to committing to a pricing plan. This judicious provision allows businesses to discern firsthand the ways in which the platform can enhance and optimize their specific needs and offerings.
Prestashop vs Wcart Comparison
When it comes to creating and managing online stores, two popular ecommerce platforms stand out: Wcart and PrestaShop. While they bear some similarities, they also possess notable distinctions that warrant careful consideration.
Flexibility and customization emerge as a defining aspect, with Wcart boasting a wide array of options in this realm. With its drag-and-drop website builder, Wcart empowers users to effortlessly fashion a distinctive and personalized online store. Conversely, PrestaShop provides a collection of themes and add-ons, but its range of customization possibilities may be comparatively narrower.
User-friendliness represents another crucial factor. Wcart shines in this regard, with a remarkably intuitive interface that facilitates seamless navigation and store management. Although PrestaShop generally prioritizes user-friendliness, some users might find its intricacies more challenging to navigate and utilize.
Payment gateways constitute a pivotal aspect of any ecommerce platform, and both Wcart and PrestaShop integrate with various options. However, Wcart may present a more extensive selection, encompassing integrations with prominent services like PayPal, Stripe, and Square.
Pricing considerations also warrant attention. PrestaShop positions itself as a free platform, yet users may incur additional expenses for hosting, add-ons, and payment processing. Wcart, on the other hand, offers diverse pricing plans, along with a free trial that allows businesses to test the platform before committing to a specific plan.
Ultimately, the choice between Wcart and PrestaShop hinges on the unique requirements and preferences of each business. Those seeking a highly adaptable and customizable platform, coupled with an effortlessly user-friendly interface, may gravitate towards Wcart. Conversely, businesses desiring an established platform with a thriving community of users might lean towards PrestaShop.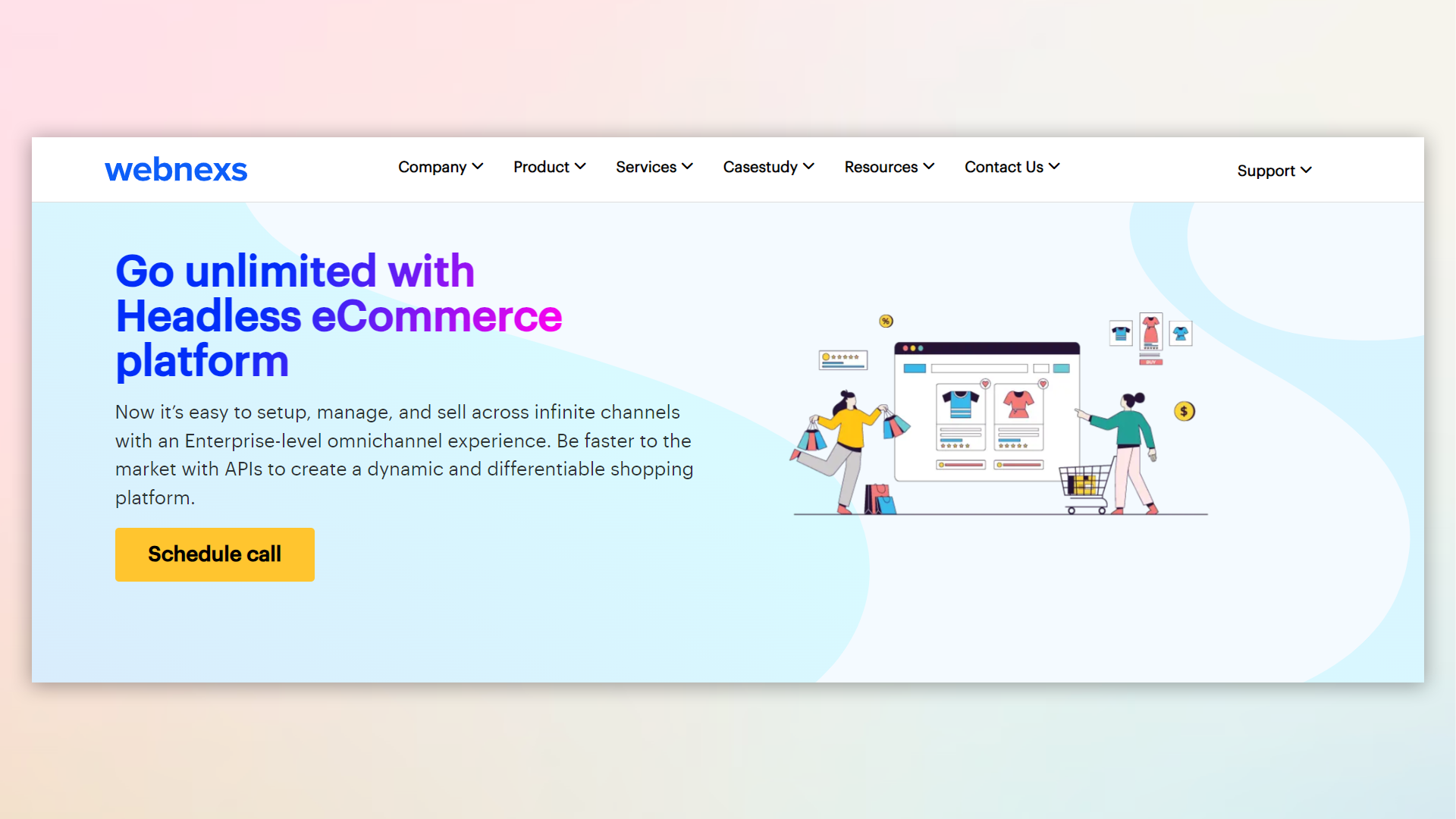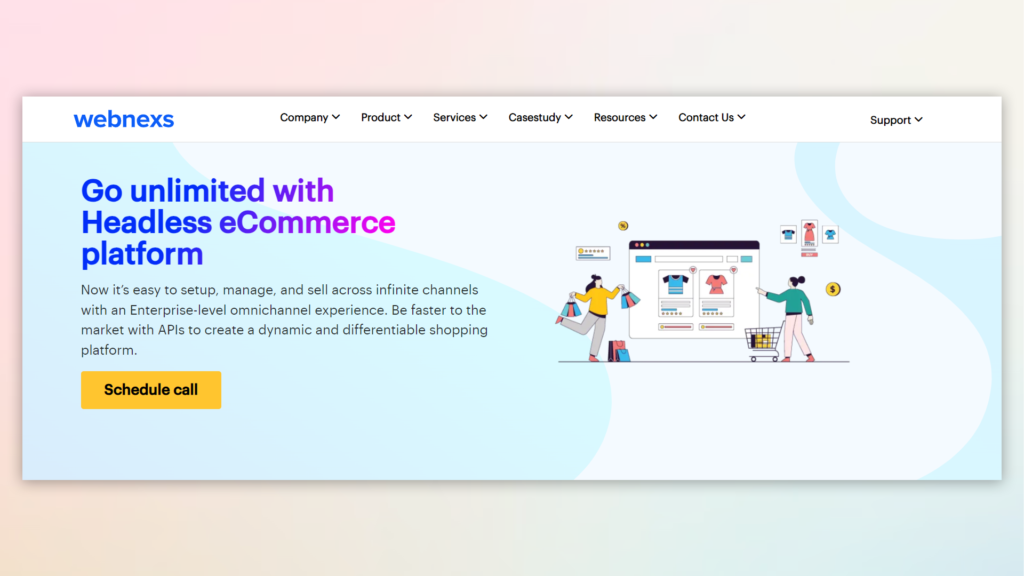 Webnexs, the ultimate ecommerce solution, empowers businesses with a diverse array of cutting-edge tools and functionalities to seamlessly oversee and optimize their online stores. This encompassing suite comprises dynamic product and inventory management capabilities, streamlined payment processing systems, comprehensive sales analytics, and invaluable customer data tracking mechanisms, among numerous others. Moreover, Webnexs extends its prowess by offering an extensive range of marketing tools and SEO wizardry, equipping businesses with the means to bolster sales and drive unprecedented traffic.
By leveraging these powerful features, businesses can expand their horizons, captivate a broader audience, and ultimately surge their revenue to unprecedented heights.
PrestaShop vs Webnexs Comparison
Webnexs and PrestaShop stand as prominent players in ecommerce platforms, providing an array of invaluable tools and features to facilitate the seamless management of online stores. While they do exhibit certain commonalities, it is crucial to acknowledge the pivotal distinctions that can influence the selection process.
Storefront builder: A distinctive attribute of Webnexs lies in its user-friendly drag-and-drop storefront builder, empowering businesses to fashion captivating storefronts sans any coding expertise. On the other hand, PrestaShop offers its own set of customization options, although the creation of a unique storefront might necessitate a greater degree of technical proficiency.
Ease of use: In terms of user-friendliness, both platforms offer a commendable experience. Nevertheless, Webnexs enjoys an edge with its intuitive interface and seamless drag-and-drop builder, rendering it an easier option for certain users. Conversely, PrestaShop may demand a certain level of technical proficiency to maximize the utilization of its feature set.
Pricing: The realm of pricing unveils an interesting contrast between the two contenders. Webnexs presents a variety of pricing plans catering to different needs and budgets, whereas PrestaShop emerges as a free, open-source platform. However, it is worth noting that businesses opting for PrestaShop might still encounter costs pertaining to hosting, add-ons, and payment processing.
Ultimately, the decision to embrace either Webnexs or PrestaShop hinges upon the specific requirements and preferences of each business. Those seeking a comprehensive suite of tools coupled with an intuitive platform equipped with a drag-and-drop builder might gravitate towards Webnexs. In contrast, those in pursuit of a cost-effective, open-source solution supported by a vibrant community of users might find PrestaShop to be their ideal fit.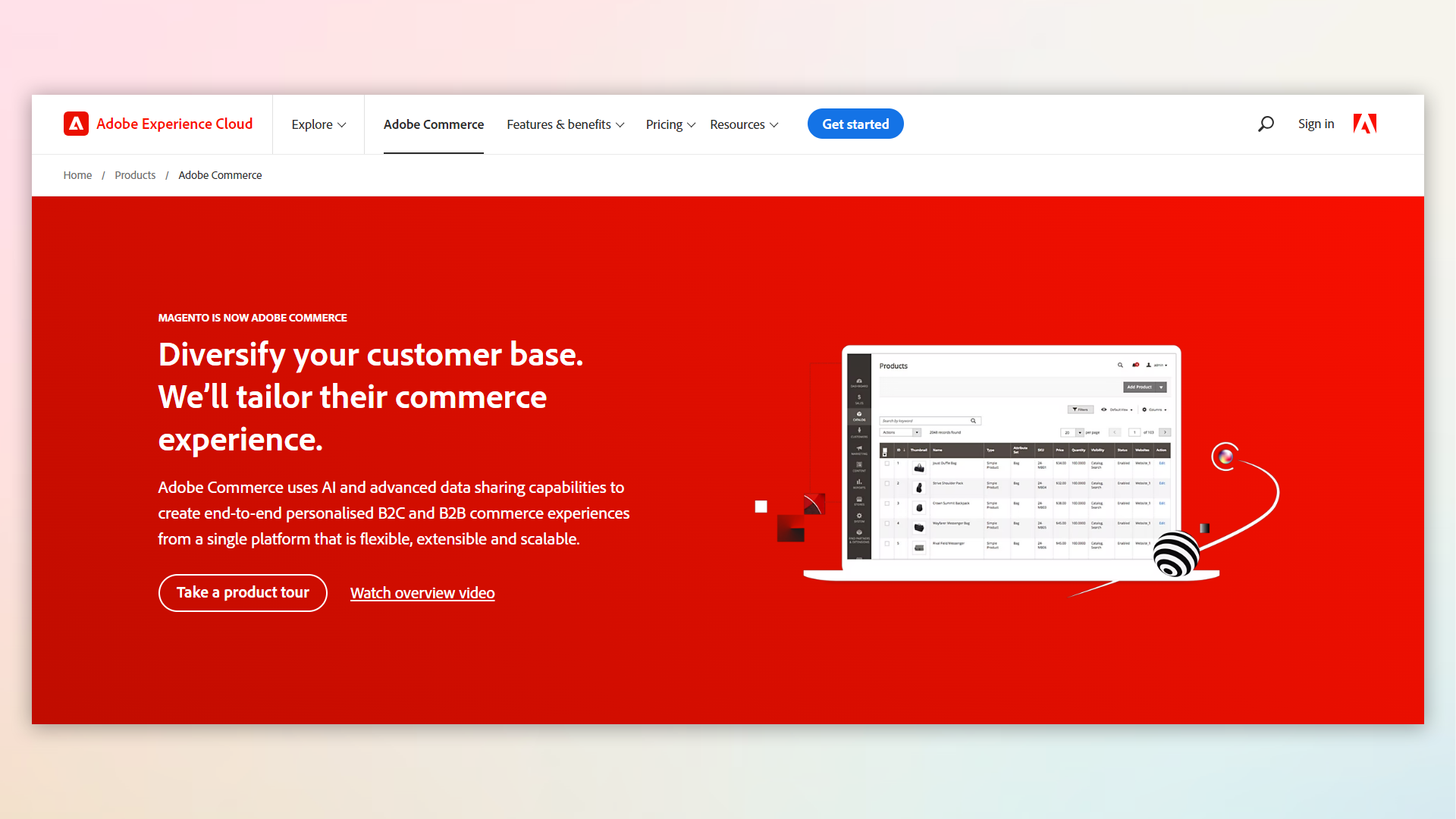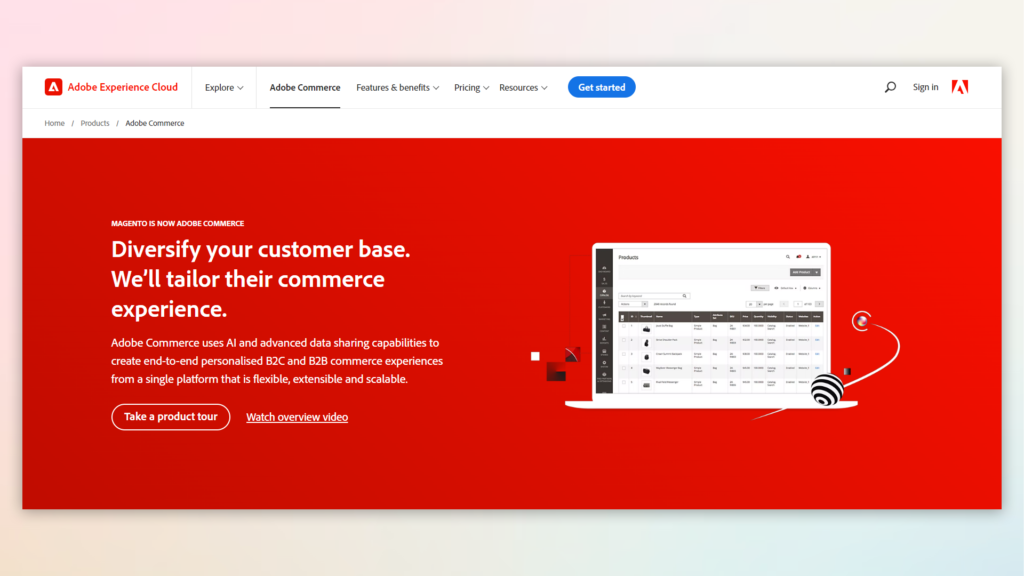 Magento, an acclaimed ecommerce platform, offers businesses a diverse array of tools and functionalities to effectively oversee their online stores. With its inception dating back to 2008, Magento has emerged as a dominant force among ecommerce platforms in the market. This platform operates on an open-source model, granting developers the liberty to tailor and personalize their code to suit their business's unique requirements.
PrestaShop vs Magento Comparison
Magento and PrestaShop stand out as two leading ecommerce platforms that empower businesses with an array of tools and functionalities for effective online store management. Although these platforms bear resemblances, notable distinctions exist, warranting careful consideration during the selection process.
customization and scalability: Magento shines in its exceptional customizability and scalability, rendering it the go-to choice for businesses grappling with intricate demands. PrestaShop, on the other hand, does offer customization options but may not match Magento's level of scalability when it comes to accommodating expanding operations.
community support: Both Magento and PrestaShop boast substantial communities of enthusiastic users and developers, furnishing businesses with valuable support and resources to optimize their online stores. Nonetheless, it's worth noting that Magento's community generally takes the lead in terms of size and activity, thereby granting businesses access to an even greater pool of resources and support.
Pricing: PrestaShop adopts a free, open-source model, enabling businesses to venture into online selling without incurring upfront costs. In contrast, Magento offers a dual pricing structure, encompassing a free, open-source version known as the Community Edition, as well as a paid version called the Enterprise Edition.
Ultimately, the decision between Magento and PrestaShop hinges upon the specific needs and preferences of each business. Those seeking extensive customization options, feature-rich environments, and robust community support are likely to gravitate toward Magento. Conversely, those desiring a straightforward, cost-effective, open-source alternative might find PrestaShop more aligned with their requirements.

Read More: To Know about Magento Alternatives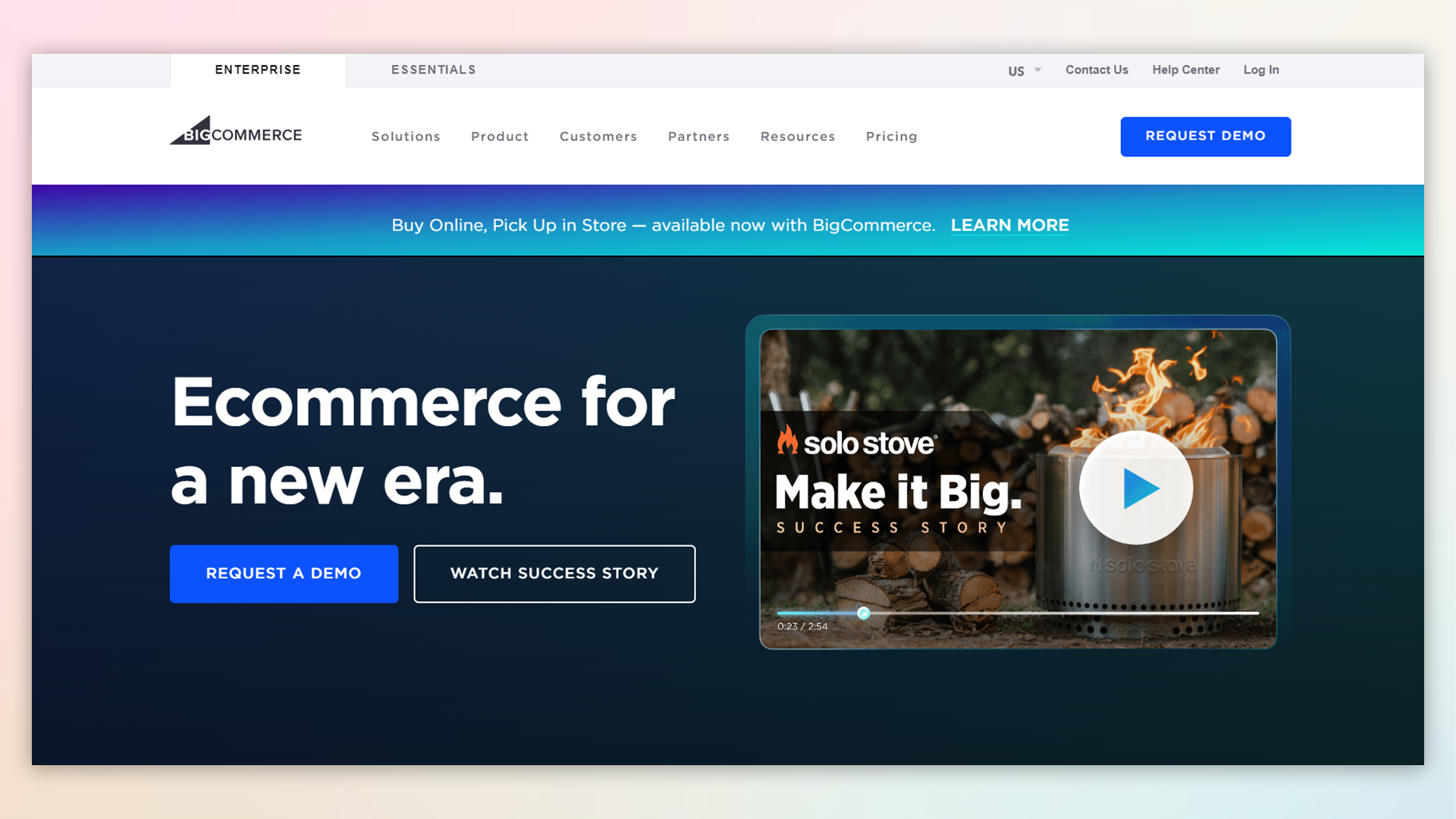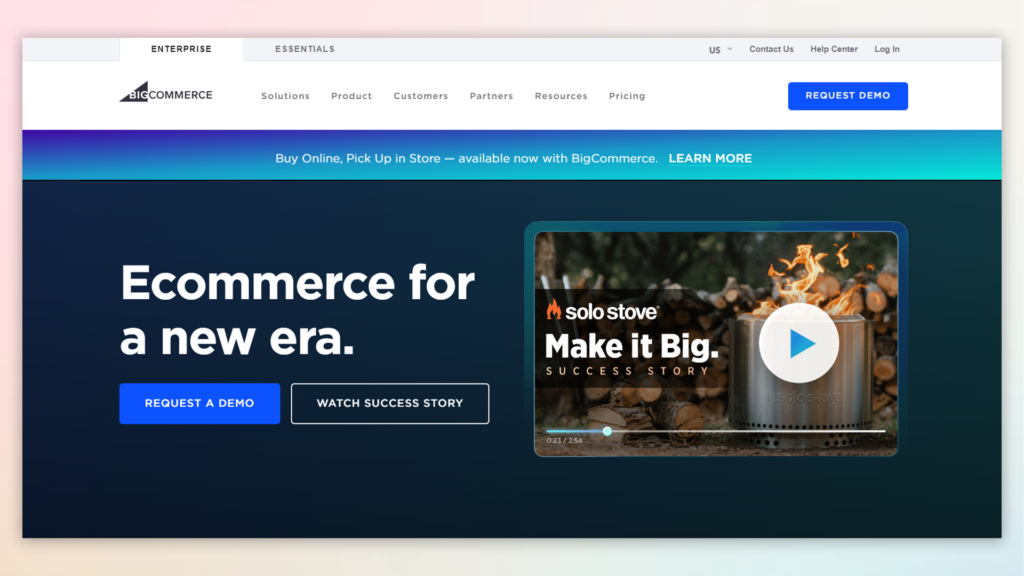 BigCommerce, a robust online store management platform, empowers businesses in establishing and maintaining their e-commerce stores. With its extensive array of features, encompassing product and inventory management, payment processing, order handling, and potent marketing and SEO tools, BigCommerce caters to diverse business needs.
All in all, BigCommerce stands as an adaptable and comprehensive e-commerce platform, providing businesses with indispensable tools and unwavering support in the pursuit of creating and managing thriving online stores.
PrestaShop vs Bigcommerce Comparison
When it comes to comparing BigCommerce and PrestaShop, there are several notable distinctions that deserve attention.
To begin with, let's focus on the hosting aspect. PrestaShop operates as a self-hosted platform, necessitating businesses to arrange their own hosting and domain. On the other hand, BigCommerce functions in the cloud, relieving businesses of concerns related to hosting and server maintenance.
Moving forward, we encounter another contrast between these platforms concerning the array of features they offer. BigCommerce equips businesses with an extensive toolkit for efficiently managing their online stores. This toolkit encompasses diverse aspects such as product and inventory management, payment processing, order management, as well as marketing and SEO tools. While PrestaShop also presents these features, they may demand additional configuration and customization to align precisely with the specific requirements of a business.
In terms of integrations with third-party apps and services, BigCommerce takes the lead. This advantage can prove fruitful for businesses aiming to streamline their operations and optimize their online sales. In contrast, PrestaShop might necessitate businesses to invest more effort in configuring their online stores to ensure compatibility with mobile devices.
Bigcommerce and PrestaShop stand out as two leading ecommerce platforms that empower businesses with an array of tools and functionalities for effective online store management. Although these platforms bear resemblances, notable distinctions exist, warranting careful consideration during the selection process.
Read More: To Know about Bigcommerce Alternatives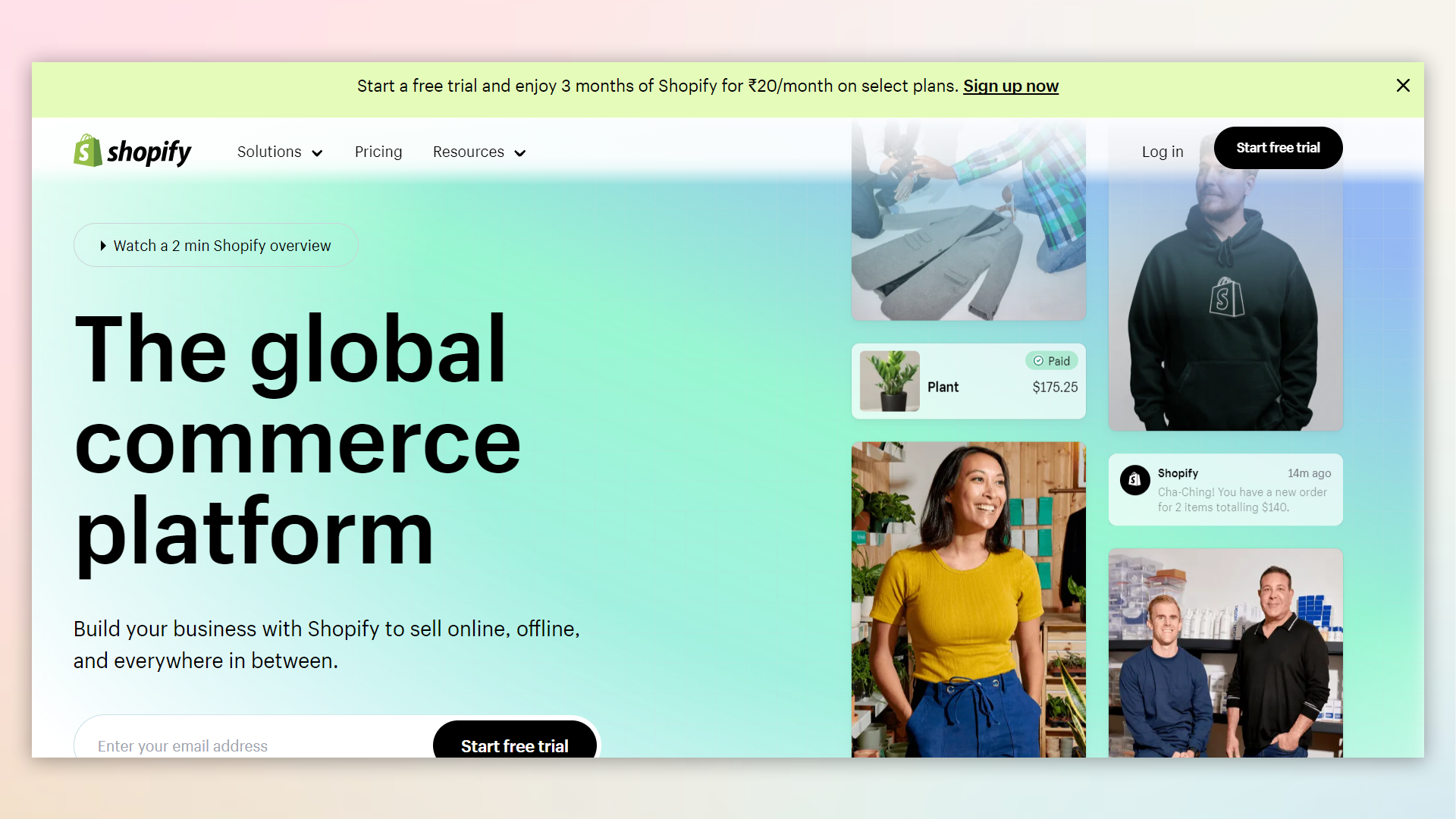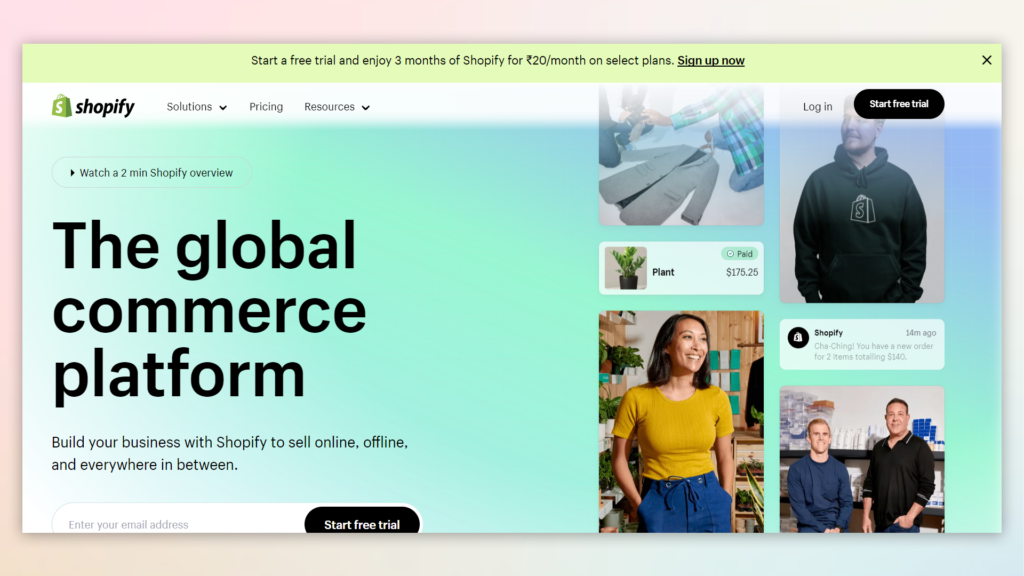 Shopify, an ecommerce platform designed specifically for businesses, empowers them to effortlessly create and oversee their online stores. This multifaceted platform offers a plethora of features that encompass product and inventory management, payment processing, order administration, marketing, and SEO tools, as well as customizable website templates. What sets Shopify apart is its user-friendly nature, boasting an intuitive interface that facilitates seamless customization and allows businesses to swiftly embark on their online journey.
PrestaShop vs Shopify Comparison
When comparing Shopify and PrestaShop, it's essential to take note of several significant distinctions.
First and foremost, PrestaShop operates as a free and open-source platform that necessitates businesses to handle their own online store hosting. In contrast, Shopify is a paid platform that simplifies the process by providing hosting services. This can be particularly advantageous for businesses seeking to avoid the technical complexities associated with hosting and maintaining their online stores.
Secondly, Shopify surpasses PrestaShop in terms of the range of built-in features it offers. It provides advanced marketing and SEO tools, along with seamless integrations with various payment gateways and shipping providers. Conversely, PrestaShop shines in terms of customization options due to its open-source nature, enabling extensive modifications to the platform.
Lastly, when it comes to templates and themes for designing online stores, Shopify stands out with its modern and polished selection. This aesthetic advantage allows businesses to achieve a professional look and feel from the get-go, providing a strong initial impression.
In summary, businesses should carefully assess their specific requirements and priorities before deciding between Shopify and PrestaShop. For those placing importance on convenience and user-friendliness, Shopify may prove to be the optimal choice. On the other hand, businesses seeking extensive customization capabilities might find PrestaShop to be a better fit.
Read More: To Know about Shopify Alternatives
Final Thoughts
When it comes to seeking the ideal match for your online store, numerous alternatives to PrestaShop exist. When comparing these 5 platforms with PrestaShop, Wcart offers more versatile and unique factors in pricing, customization options, built-in features, and ease of use. Choosing the Wcart platform will perfectly fit your online store and help your business succeed in the world of extreme competition in ecommerce. If you have any queries, please contact the Wcart Ecommerce Expert team.
Frequently Asked Questions(FAQs)
1. What are some popular alternatives to PrestaShop for building e-commerce websites?
Some notable options include Wcart, Webnexs, Shopify, Magento, BigCommerce, and OpenCart. These platforms offer various features and functionalities, allowing you to choose the one that best fits your specific requirements.
2. How do I choose the right alternatives to PrestaShop for my business?
It depends on your specific business needs. Consider factors like budget, scalability, customization options, ease of use, available integrations, and support. Evaluate each platform based on these criteria to find the best fit for your business.
3. Is it easy to migrate from PrestaShop to another e-commerce platform?
Migrating can be a complex process that requires technical expertise and careful planning. However, many e-commerce platforms offer migration tools or services to help simplify the process. It's important to research the migration process for your chosen platform and consider hiring a professional if needed.
4. How much do alternatives to PrestaShop cost?
Costs vary widely depending on the platform and the features included. Some platforms offer free plans with limited features, while others have monthly subscription plans that range from $20 to $300 or more. It's important to consider your budget and business needs when choosing an e-commerce platform.
5. Can I customize the design of my e-commerce website on PrestaShop alternatives?
Yes, most PrestaShop alternatives offer customization options. Some platforms offer drag-and-drop interfaces and pre-made templates for easy customization, while others require more technical expertise to make customizations.