Having an ecommerce website is must for any business that wants to succeed in today's competitive world. Ecommerce website provides a platform for businesses to sell their products or services online, reach a wider audience, and increase revenue. Building a ecommerce website from scratch may seem difficult, but with the right guidance, it can be done successfully.
Importance of Having an Ecommerce Website
Building a ecommerce website provides an opportunity to gather valuable customer data and insights that improve products and services. Customers are more likely to shop online, and having an ecommerce website is the perfect way to fulfill their needs. Businesses can expand their reach to customers beyond physical location and sell products or services around the clock.
Read More: History And Evolution of Ecommerce Website Development
15 Steps on Building a Ecommerce Website from Scratch
1. Planning on Building a Ecommerce Website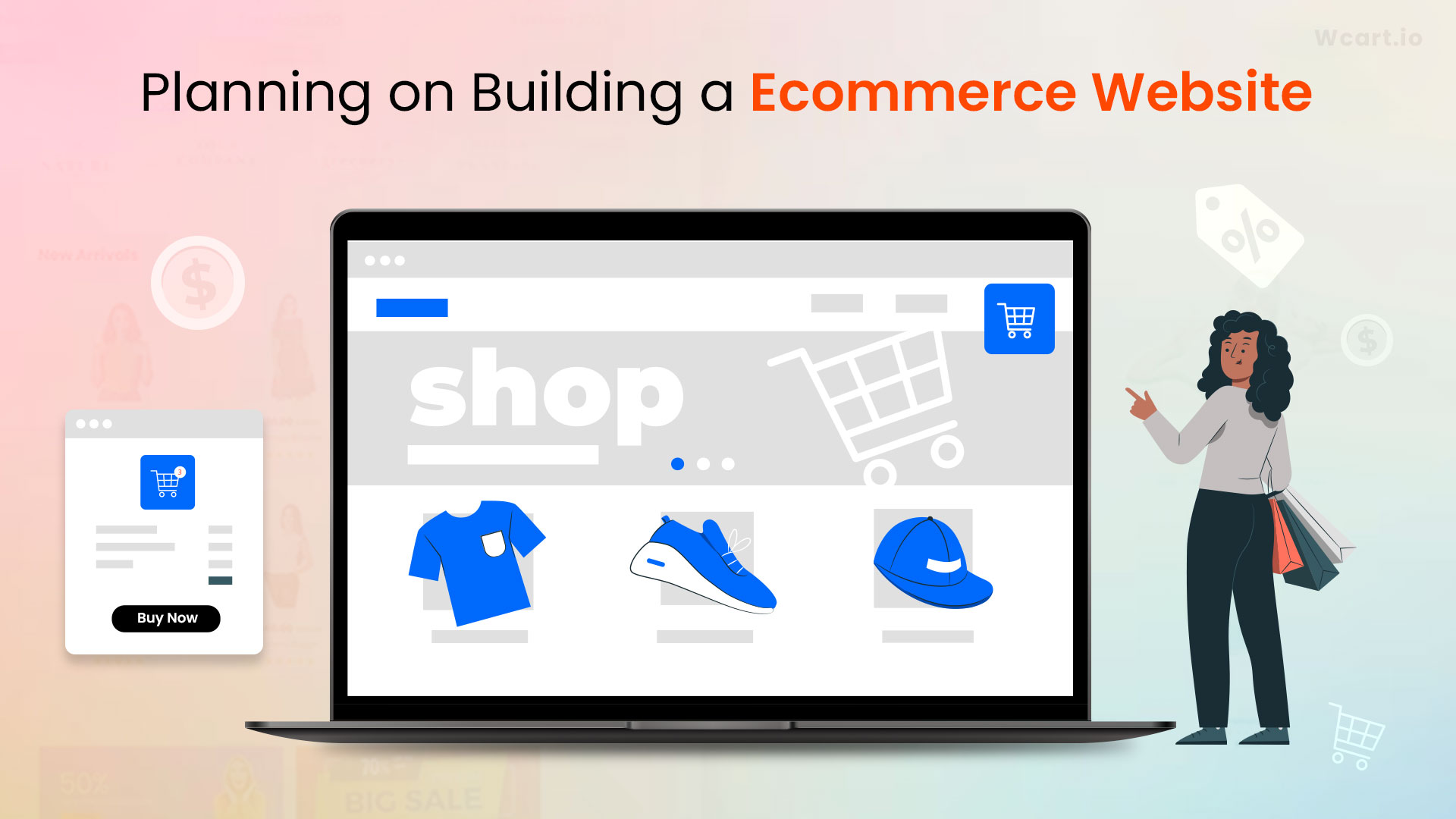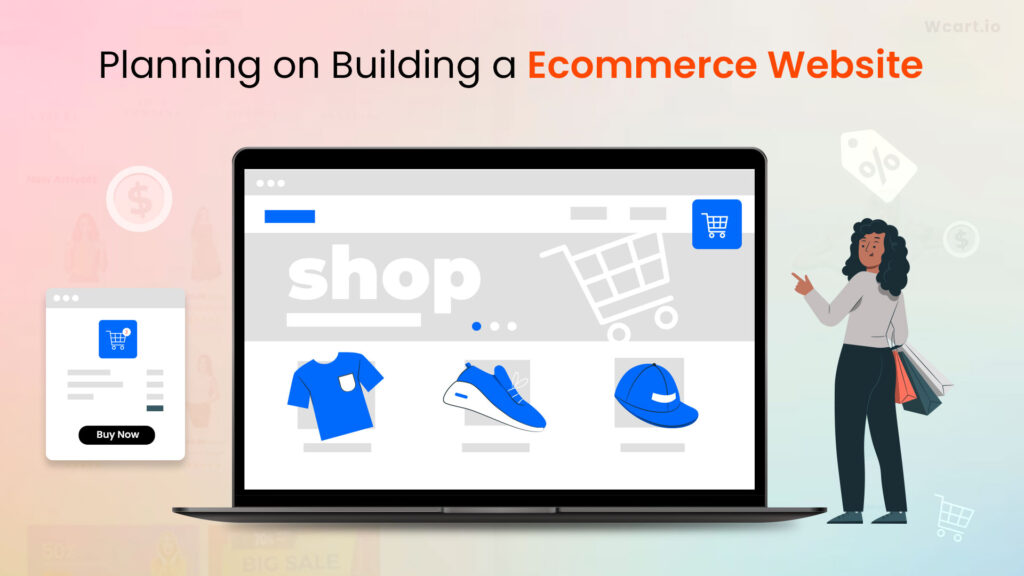 Building a ecommerce website from scratch can be huge, but with proper planning. The first step in planning your ecommerce website is to establish its purpose, goals, and budget. Research yourself on these questions – what products or services will your ecommerce website offer? Who is your target audience? What features do you need on your website? these with help you to define your target audience and needs.
Read More: Guide to Development of Ecommerce Website
2. Choosing the Right Ecommerce Platform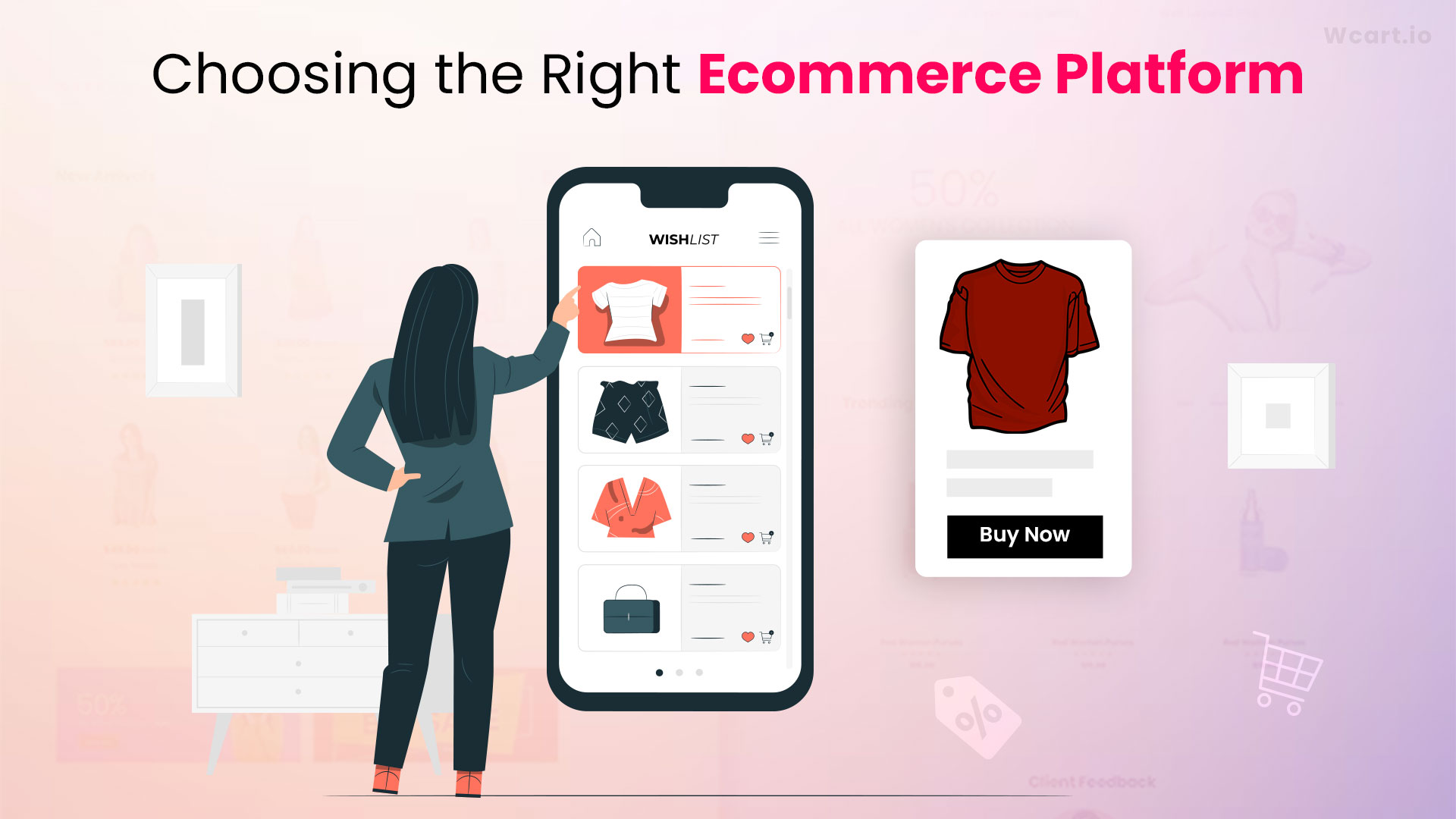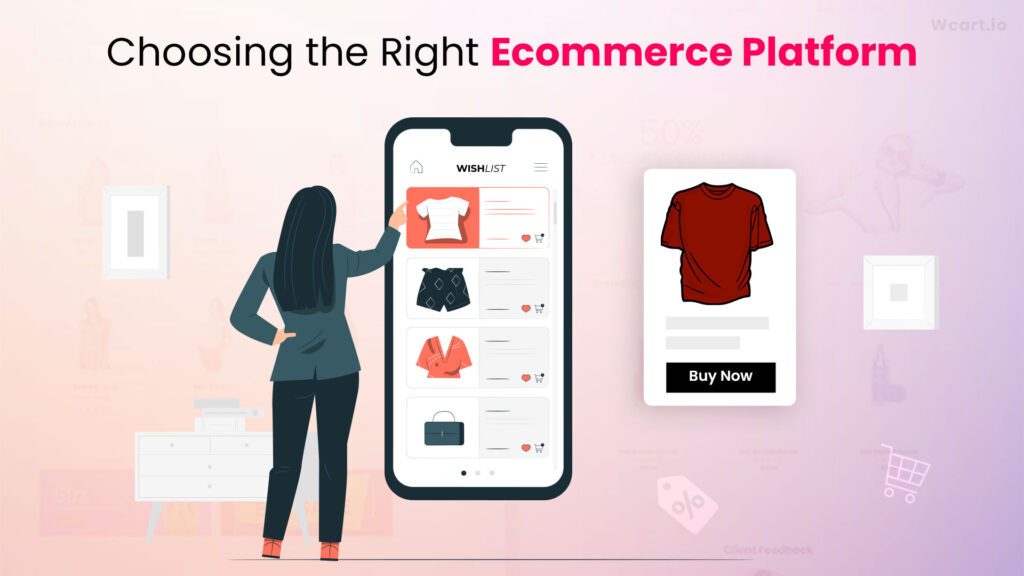 Choosing the right ecommerce platform is the major step in building an ecommerce website from scratch. An ecommerce platform is essentially the foundation of your online store, and it will dictate the features and functionality that you can offer to your customers. There are several popular ecommerce platforms to choose from, including Wcart, Webnexs, and more. Each platform has its own unique strengths and weaknesses, so it's important to evaluate each one to determine which is the best fit for your business.
Visit Here: How To Build A Ecommerce Website Like Amazon In 9 Steps
3. Selecting a Domain Name and Hosting Provider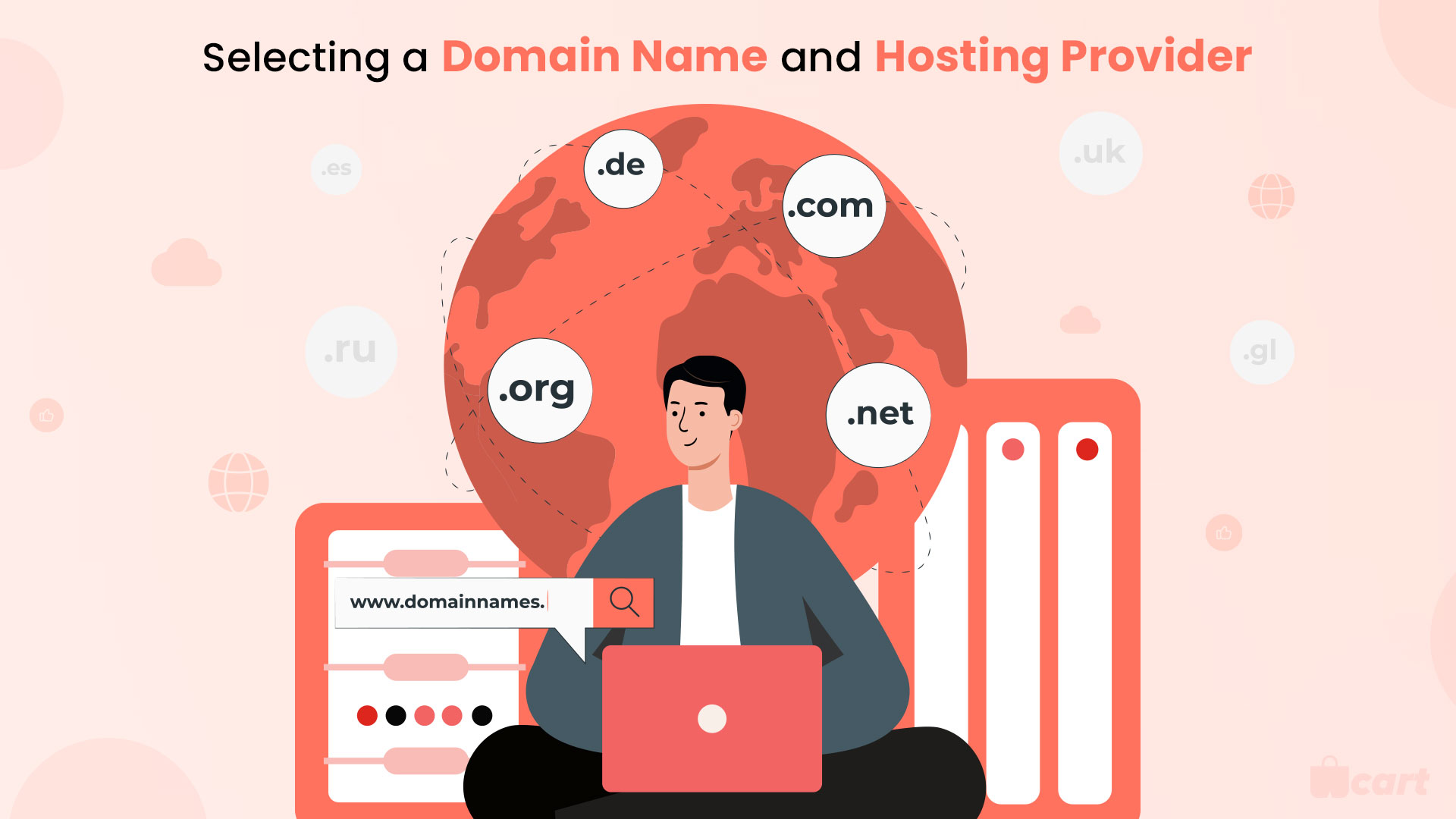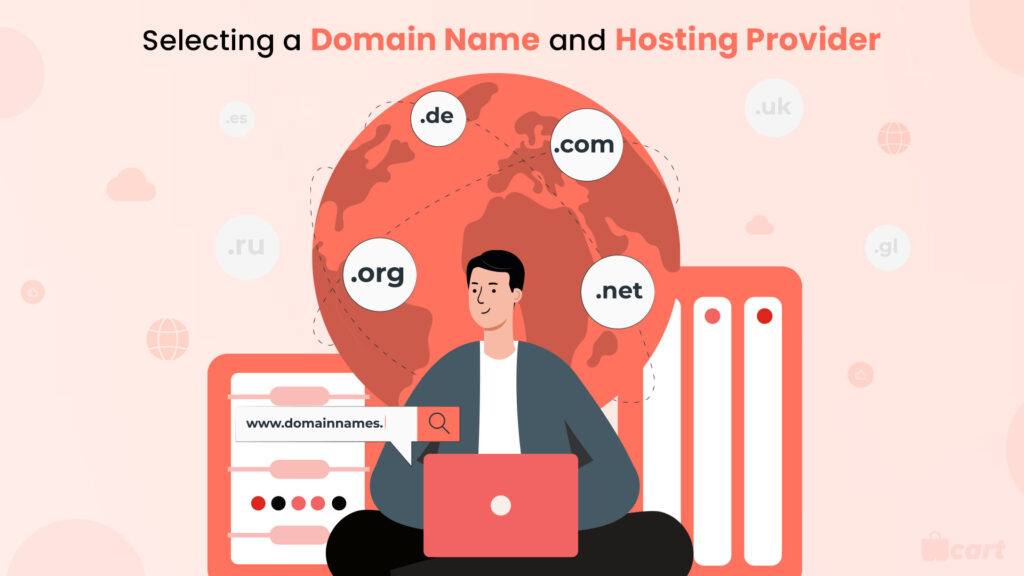 Here are some tips and factors to consider on choosing the right domain name and hosting provider:
Tips for Choosing a Domain Name
Your domain name should be short and easy to remember. Avoid using hyphens or numbers as they can make it harder for people to remember.
Consider using relevant keywords in your domain name to help with SEO.
Consider using a .com domain extension as it is the most popular and recognized globally.
Make sure your domain name does not infringe on any existing trademarks or copyrights.
Factors to Consider When Selecting a Hosting Provider
Your hosting provider should guarantee a high uptime percentage, ideally 99.9% or higher, to ensure your website is always available to customers.
Look for a hosting provider that offers robust security measures such as SSL certificates, firewalls, and malware scans to protect your website and customer data.
As your ecommerce business grows, you may need to upgrade your hosting plan to accommodate increased traffic and sales. Make sure your hosting provider offers scalable options.
Choose a hosting provider with a responsive and knowledgeable customer support team to help you quickly resolve any technical issues that may arise.
Visit Here: Best Ecommerce Website Builders To Build Your Dream Online Store
4. Planning Your Website Layout and Design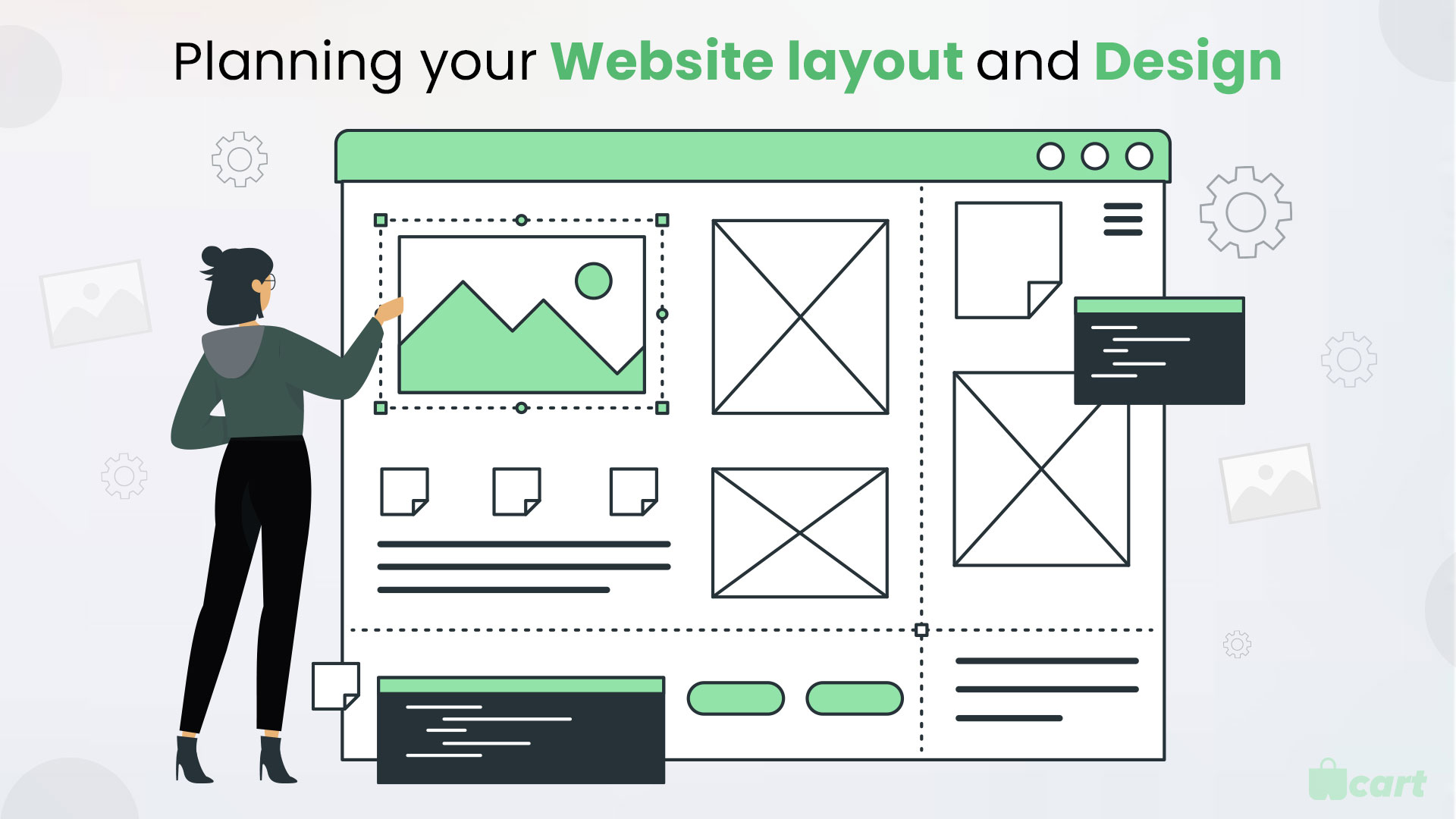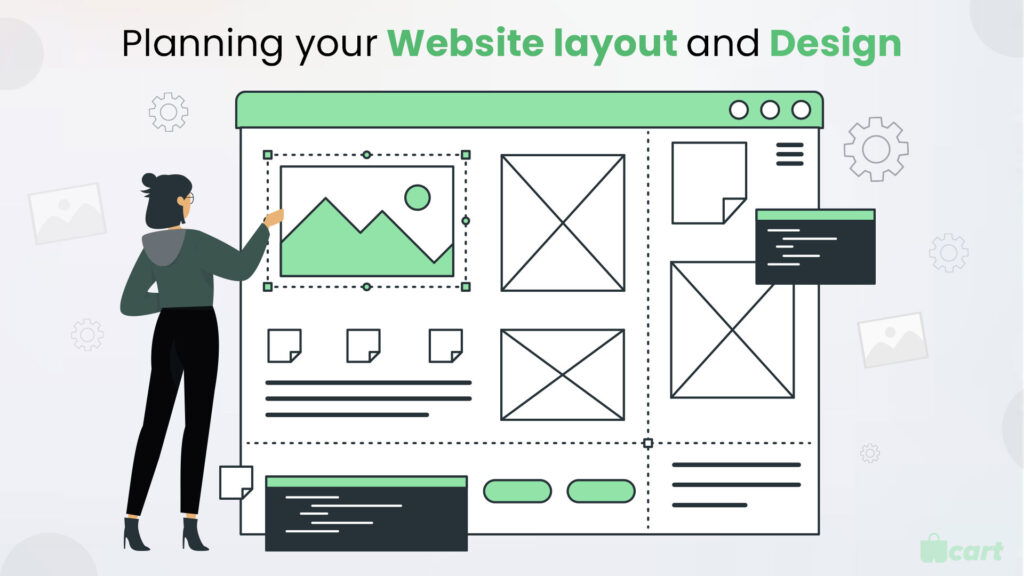 If you're planning on creating appealing website layout and design, follow these 5 simple tips and best practices to build a successful e-commerce website as well as drive traffic, sales, and conversions 
Tips for Creating a User-Friendly Website Layout
Keep your design clean and simple, with clear navigation and prominent calls to action.
With the majority mobile users, it's essential that your website layout is responsive and can adapt to different screen sizes.
Use clear headings and subheadings to guide users through the site.
Whitespace helps to emphasize important elements and create a sense of hierarchy.
Incorporate branding will help to create a strong brand presence and make your website more memorable.
Read Here: Design an Online Store with User Friendly and SEO Friendly
Best Practices to Create an Attractive and Effective Website Design
Choose a color scheme that reflects your brand and creates a cohesive look across the website.
Use easy-to-read fonts for your website content, with larger font sizes for headings and subheadings.
Use high-quality product images to showcase your products and make them more appealing to customers.
Visit Here: Top 17 Essential Ecommerce Website Features
5. Building A Ecommerce Website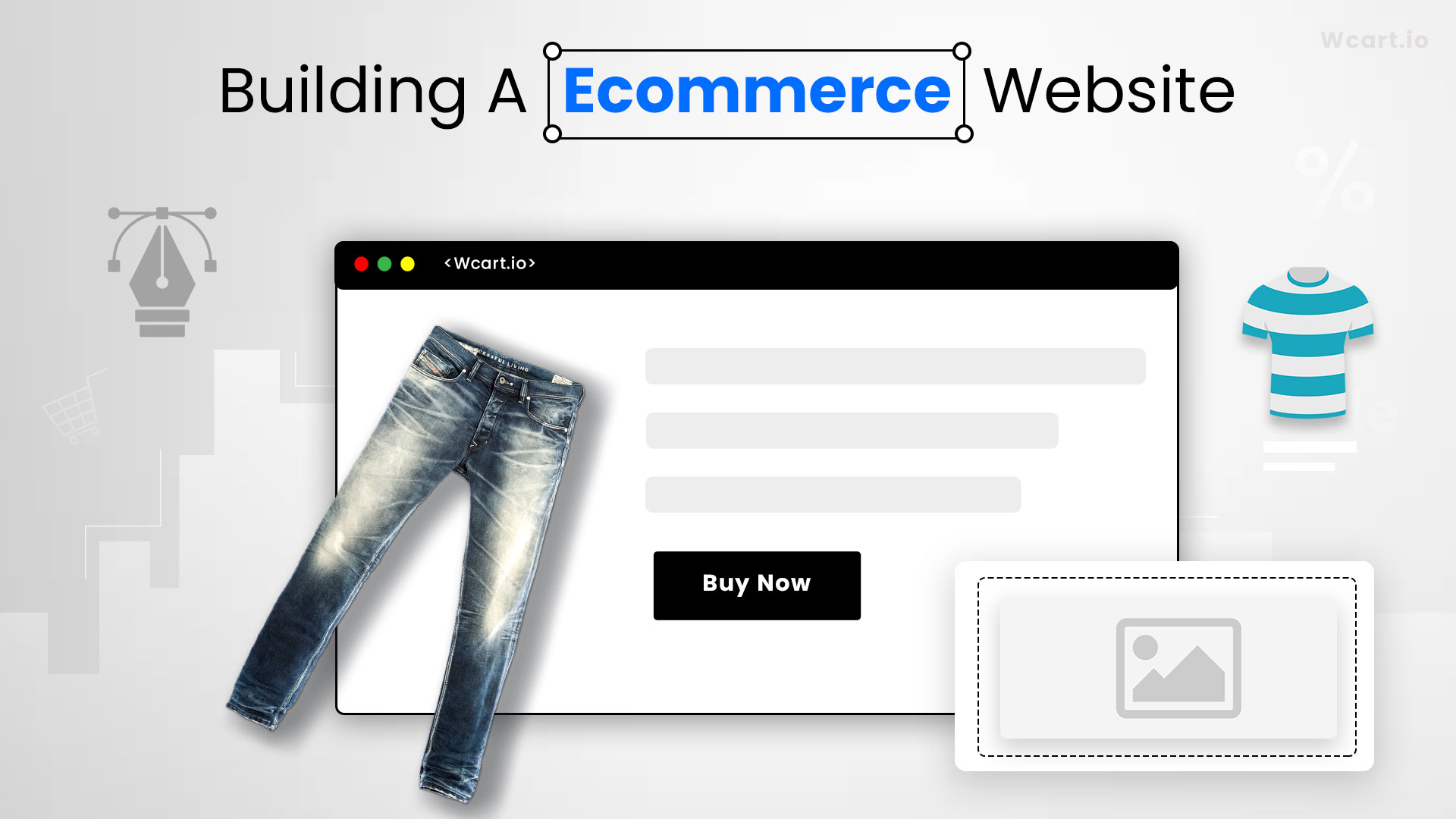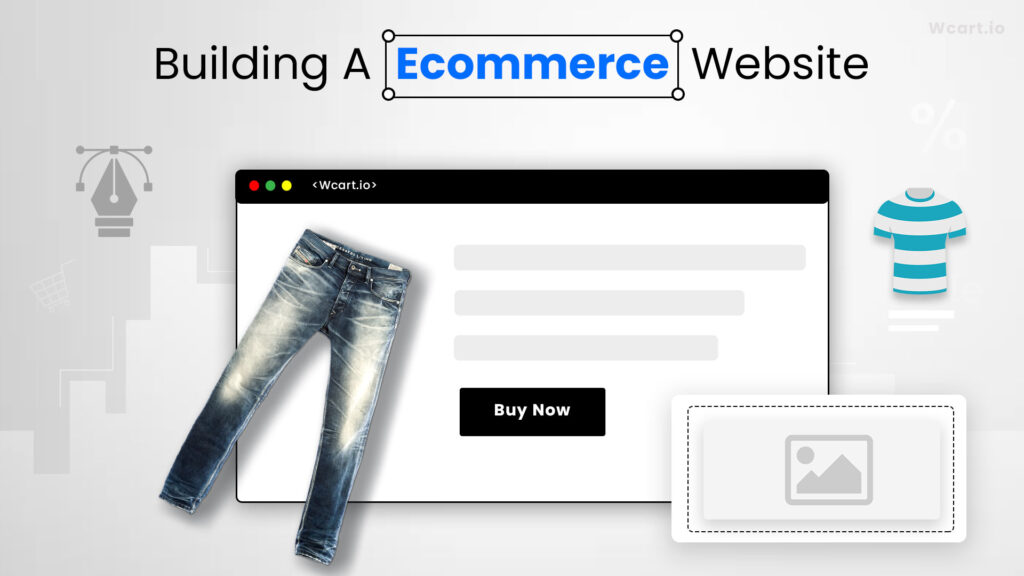 Building a ecommerce website involves 6 steps, including:
Process of Setting Up Your Website
Once you have chosen an ecommerce platform that suits your needs, you need to install it on your website.
Set up your payment gateway, shipping methods, tax settings, and email notifications.
Create product pages that contain descriptions, prices, images, and other product details.
Organize your products into categories and this involves creating category pages that display products belonging to a specific category.
Customize by choosing a theme or template or add custom CSS and HTML to further customize your website's appearance.
Atlast, test everything which includes testing your payment gateway, checkout process, and other features to ensure that they are functioning correctly.
Visit Here: How to Start an Commerce Business
6. Customizing Your Website Design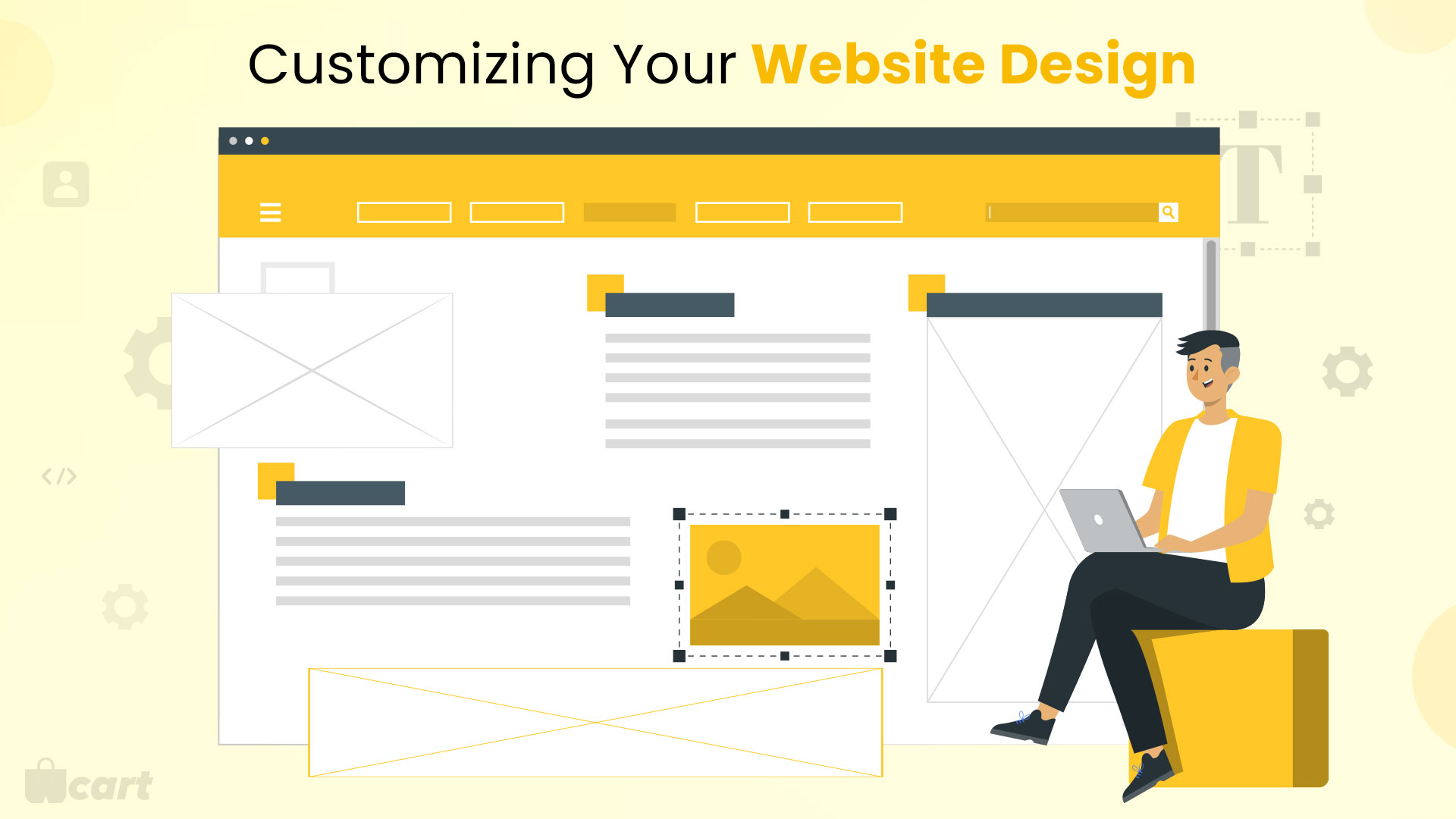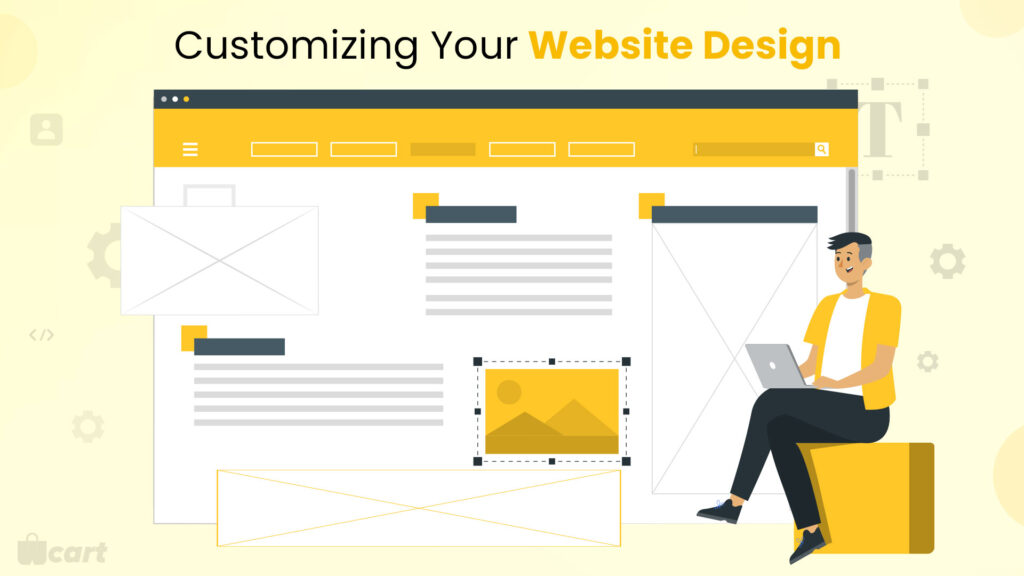 Customizing your website design with themes and plugins helps you create a unique and visually appealing website that stands out from competitors.
Themes: Many ecommerce platforms provide themes that you can use to customize the design of your website. Themes are pre-designed templates that you can customize by changing colors, fonts, and other elements.
Plugins: Plugins are add-ons that you can install to your website to add more functionality or design features. That help you to create custom page layouts, add sliders, and integrate social media icons.
Read More: Why Your Ecommerce Business Needs a Stunning Website Design
7. Adding Products After Building a Ecommerce Website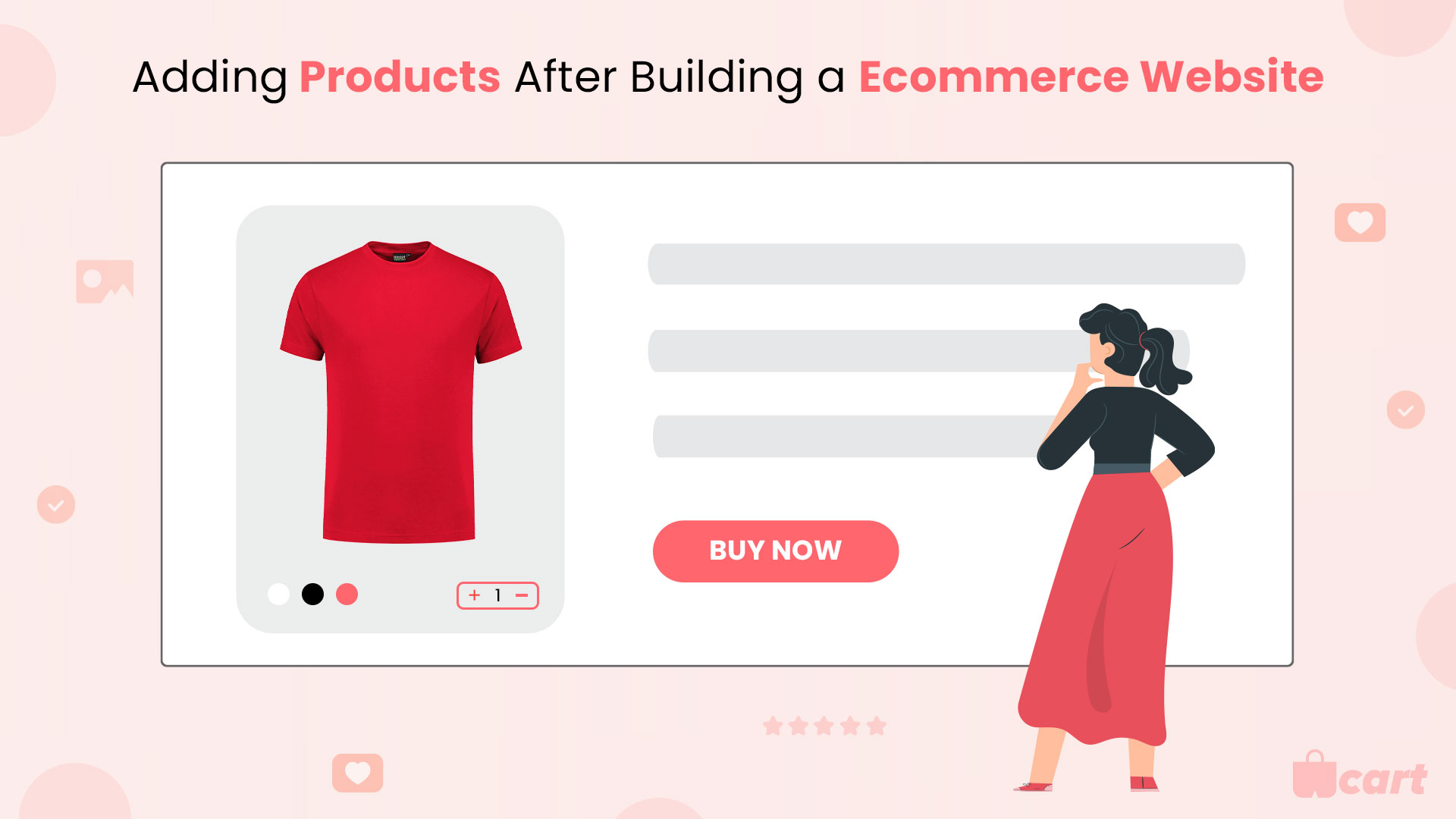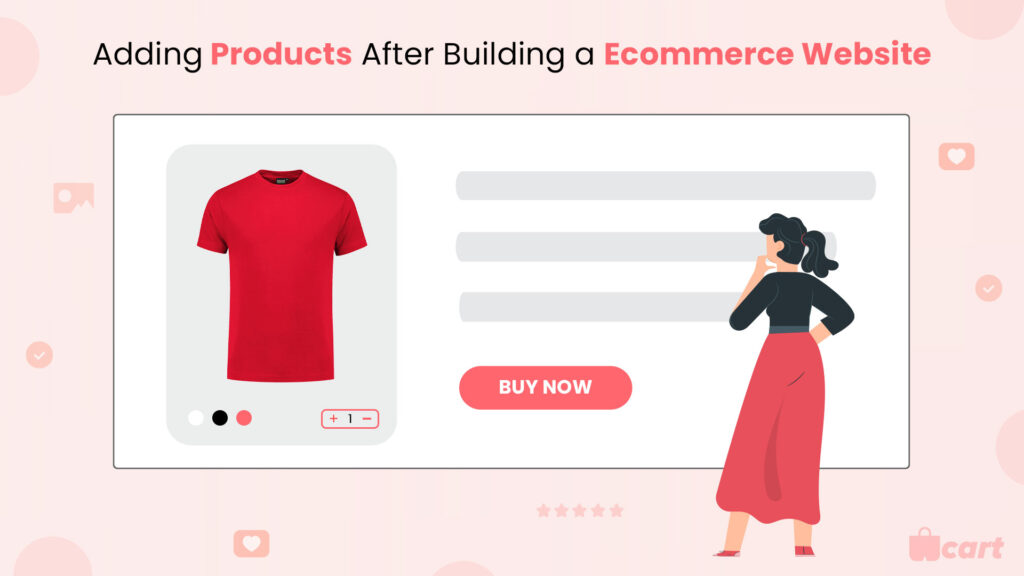 Your product listings should be accurate, visually appealing, and provide all the necessary information for potential customers to make informed purchasing decisions. Here are some tips for creating effective product listings:
Provide detailed product descriptions that are informative, concise, and highlight the key features and benefits.
Use high-quality images with clear, and high-resolution, and showcase the products from different angles.
Customer reviews and ratings can help build trust and credibility with potential customers.
Use relevant keywords in product titles, descriptions, and tags to improve search engine rankings and make it easier for potential customers to find the products.
Visit Here: 5 Must-Have Features to Look in an Ecommerce Builder
8. Creating a Smooth Checkout Process
To create a smooth checkout experience, it's essential to follow best practices such as:
Keep the checkout process simple and straightforward, with minimal steps required to complete the purchase.
Provide clear and concise instructions for each step of the checkout process, including any necessary information customers need to provide, such as shipping address or payment details.
Use a progress indicator to show customers how far along they are in the checkout process, and give them the option to go back to previous steps if needed.
Offer multiple payment options, such as credit cards, PayPal, and Apple Pay, to cater to the different preferences of your customers.
Provide customers with a clear and detailed summary of their order before they complete the purchase, including product details, shipping options and costs, and any applicable taxes.
Use a secure and reliable payment gateway to process payments, and subsequently ensure that your website is PCI compliant to protect customers' sensitive information.
Visit Here: 12 Must-Try Tips For Increasing Ecommerce Conversion Rates
9. Integrating Payment Gateway and Shipping Methods
Integrating Payment Gateway: Consider factors such as transaction fees, payment security, and compatibility with your ecommerce platform. Make sure the payment gateway is supported in the countries where you plan to sell the products.
Selecting Shipping Methods: Consider factors such as shipping rates, delivery times, and carrier reliability when selecting the right shipping methods for your business. Ensure that your ecommerce platform supports the shipping methods you want to offer.
Visit Here: Ecommerce Payment System Importance & How to Choose the Best One
10. Optimizing Your Build Ecommerce Website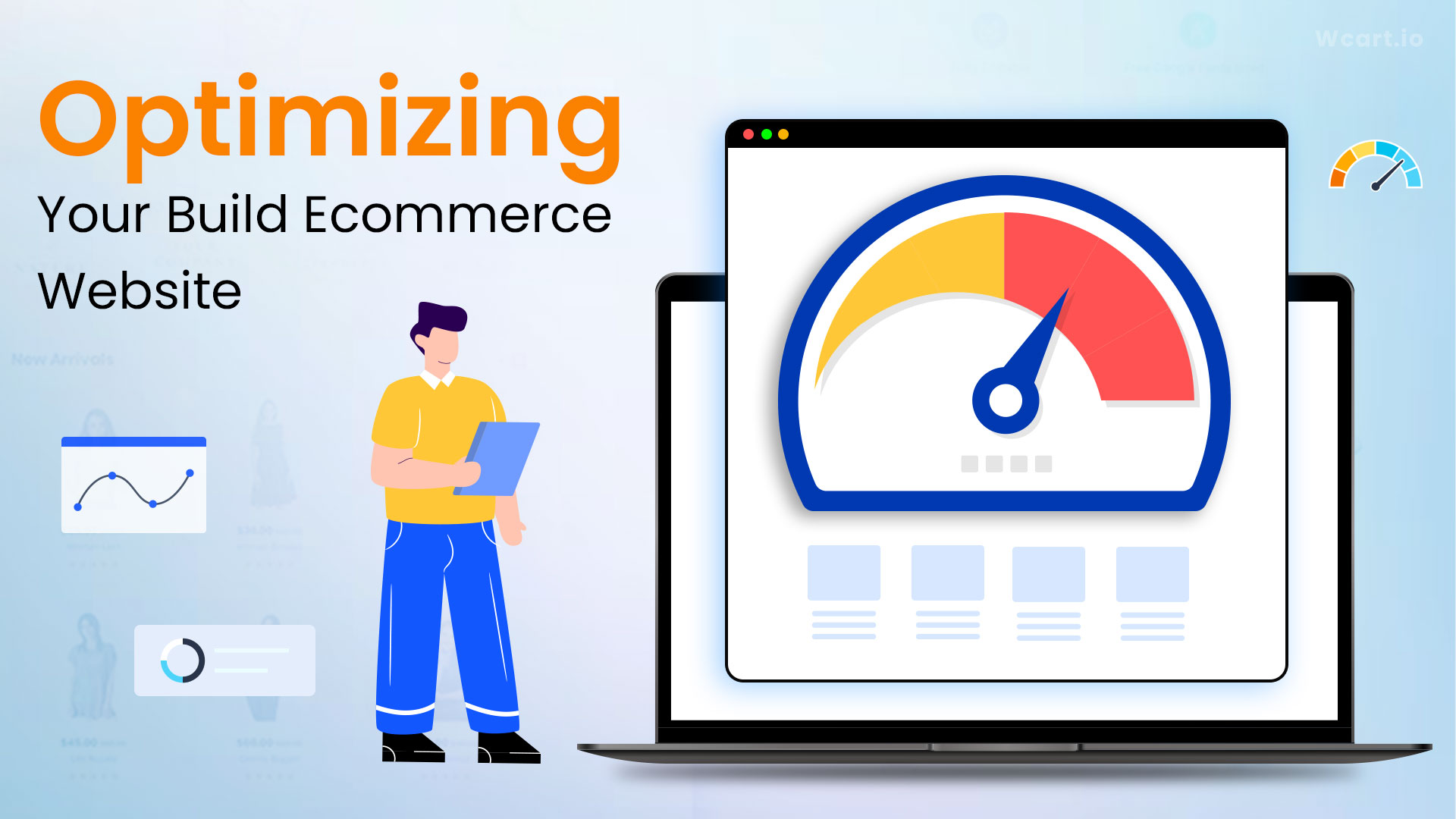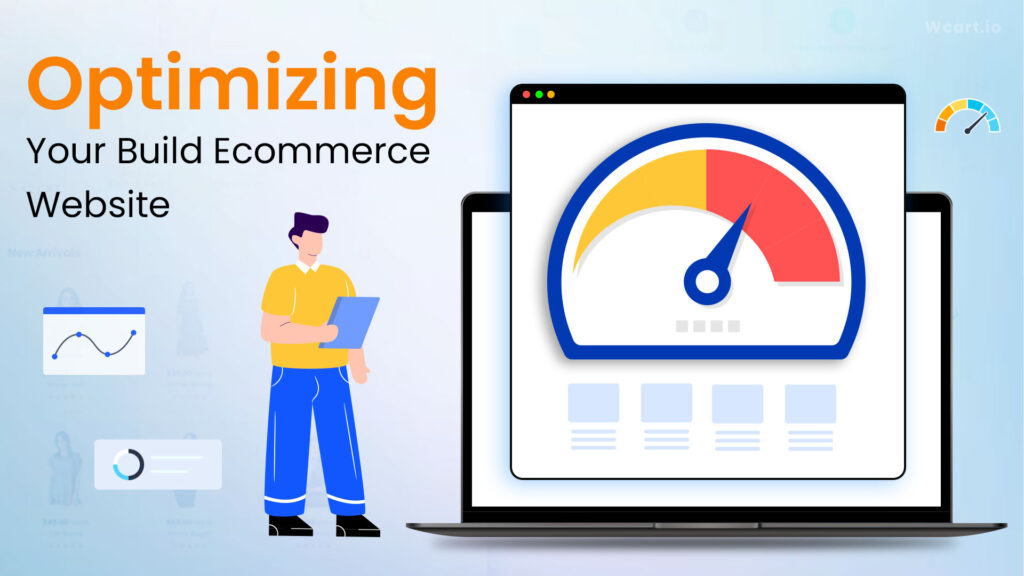 SEO is one the most important factor to consider in optimizing an ecommerce website. It helps to improve the visibility of website on search engines like Google, which can lead to increased traffic and sales.
Best SEO Practices for Ecommerce Websites
Conducting keyword research involves identifying the words and phrases that your target audience is using to search for products or services.
Optimize various on-page elements like page titles, meta descriptions, headers, and content for keywords and relevancy.
Building high-quality backlinks can help to boost website's authority and improve its rankings on search engines.
Creating high-quality, relevant content can help to improve website's visibility on search engines and engage your target audience.
Optimize product titles, descriptions, and images for keywords and relevancy, as well as ensuring that each product page has a unique URL and meta description.
Visit Here: 5 Ways to Increase Conversions with Your Ecommerce Shopping Cart
11. Implementing Social Media And Email Marketing Strategies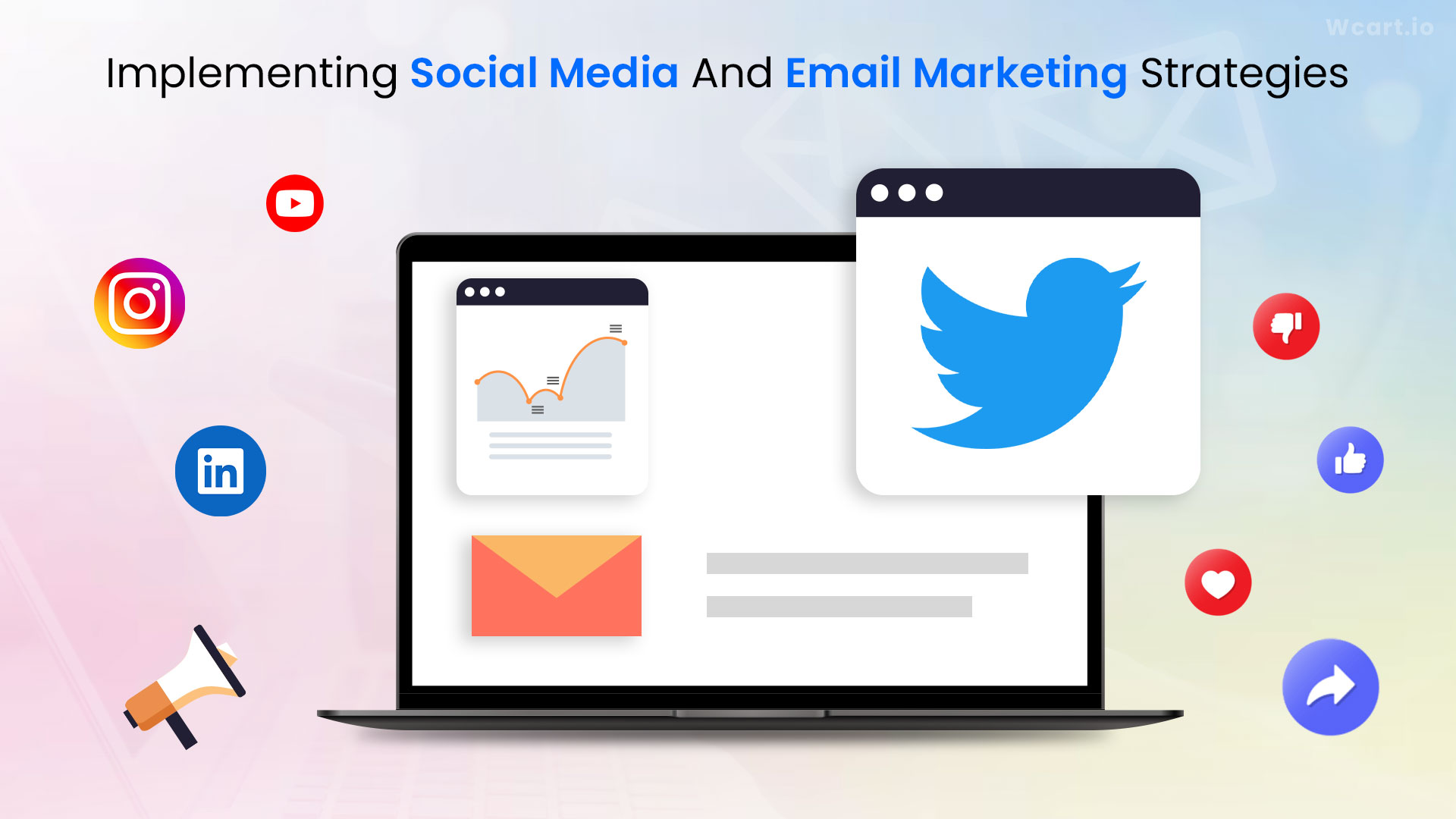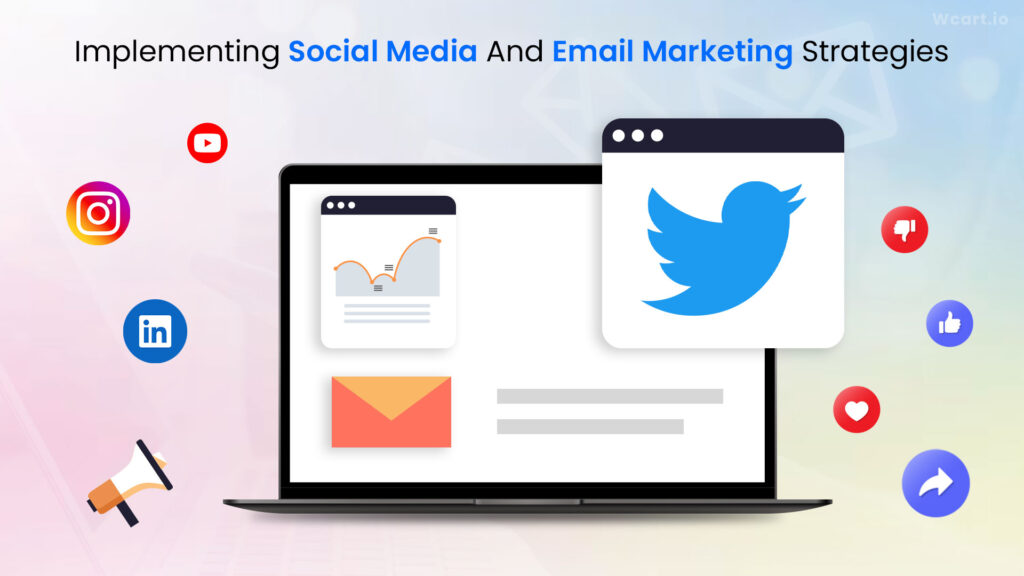 Here's a breakdown of how to implement them effectively to grew your ecommerce business:
Social media marketing: Create social media profiles for your business and start posting content that showcases your products and brand. You can also run social media ads to reach a wider audience and promote your products.
Email marketing: Collect email addresses from your customers and start building an email list. Then, create email campaigns that showcase your products and offer special deals and promotions to your subscribers.
12. Analyzing and Tracking Your Built Ecommerce Website Traffic and Sales Data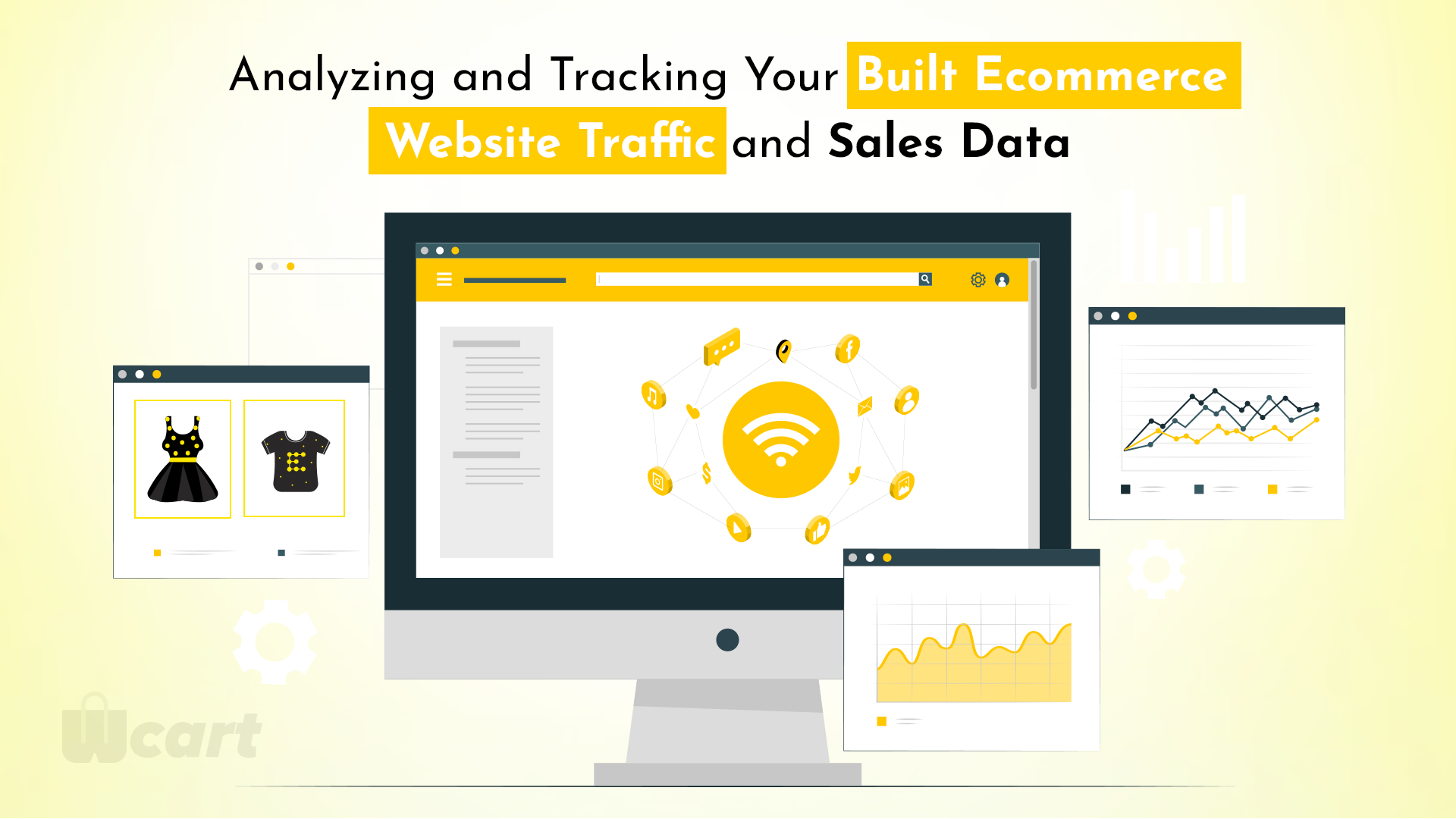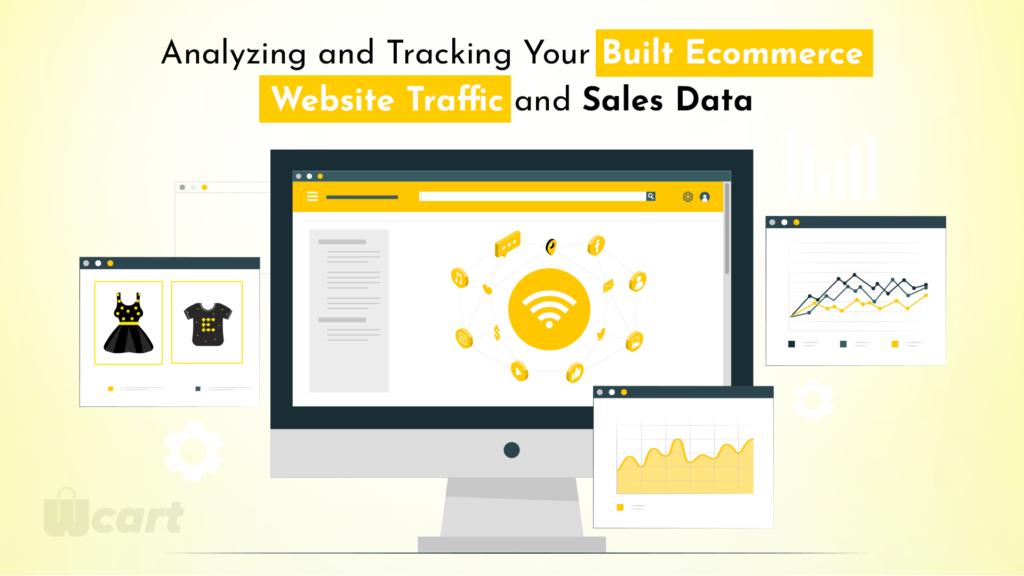 Analyzing and tracking your website traffic and sales data is an essential part of managing an ecommerce website. Obviously this information helps to understand how visitors interact with your site and where you can make improvements to increase conversions and revenue.
One of the most popular website analytics tools is Google Analytics. It provides detailed insights into website's performance, such as the number of visitors, where they come from, and how long they stay. It also tracks sales data, including revenue, conversion rates, and average order value.
Visit Here: Best Ecommerce Analytics For Growth: Types and Key Metrics
13. Maintaining Your Ecommerce Website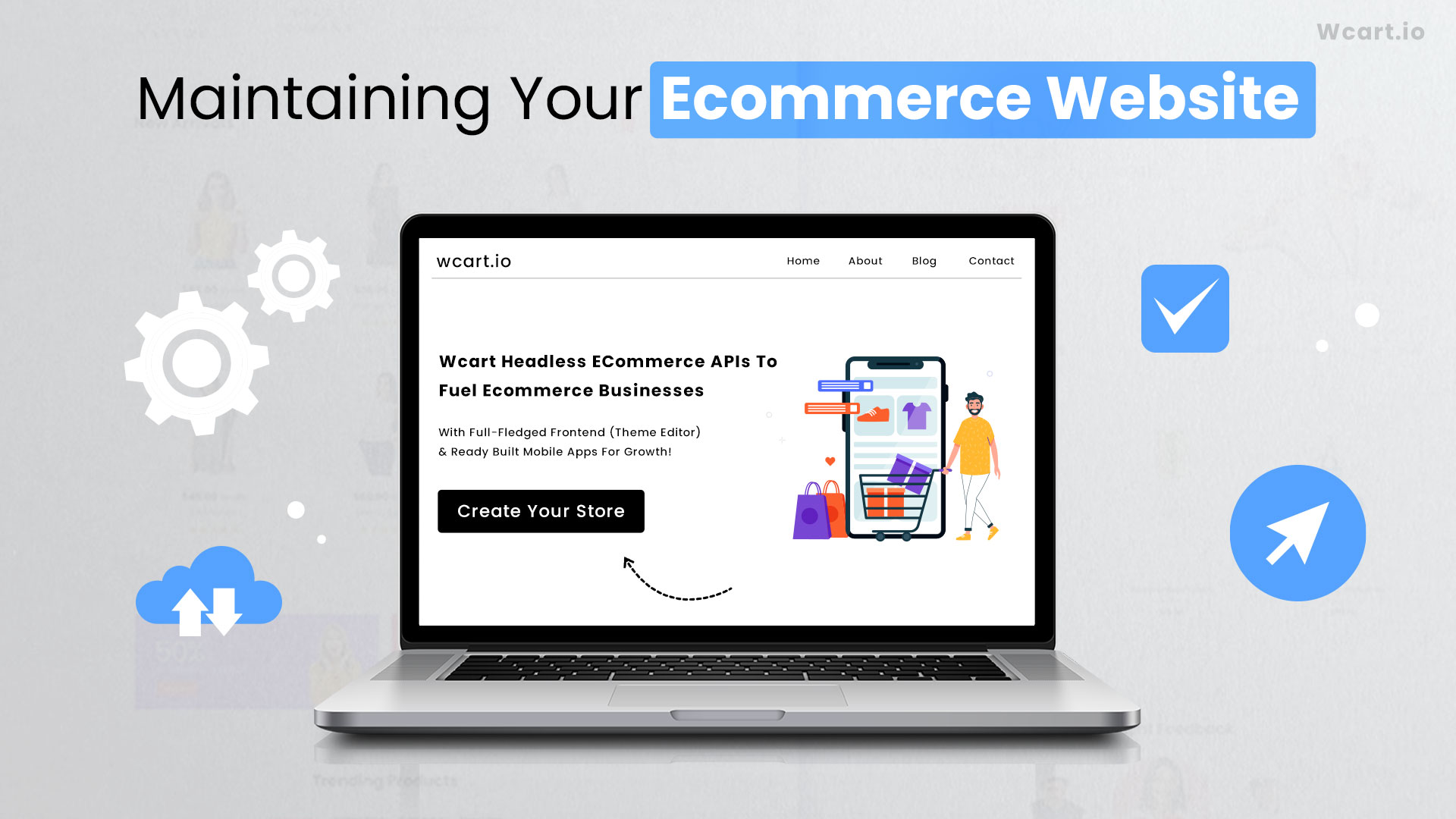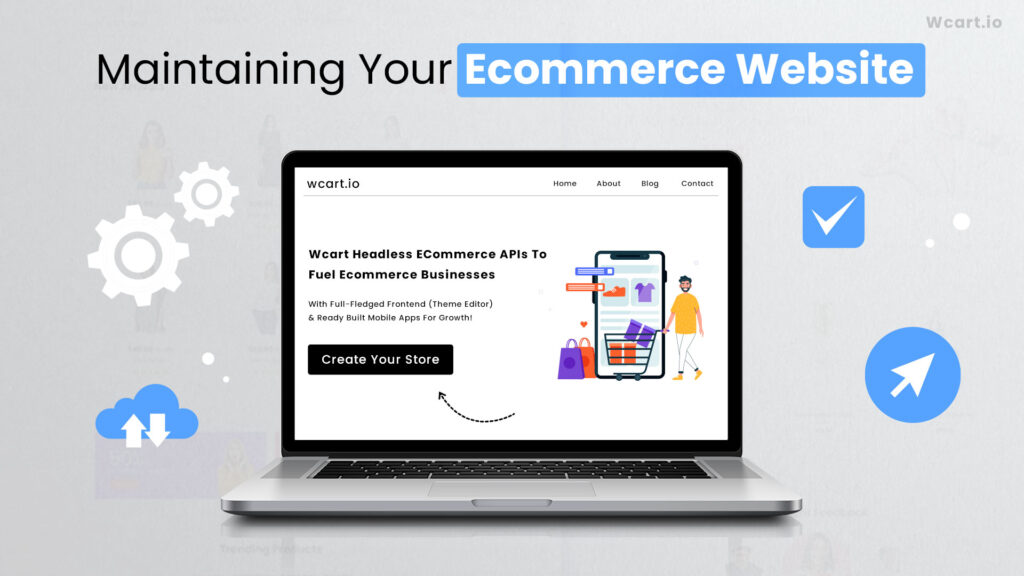 Maintaining your ecommerce website involves regularly updating and adding new products to the website, as well as ensuring that the website is functioning properly and providing a positive user experience.
This includes organizing product information and images in a clear and consistent manner, ensuring that product descriptions are accurate and detailed, adding product reviews and ratings help customers to make informed decisions.
In addition, it is important to keep the website up-to-date with the latest trends and technologies in ecommerce. This may involve implementing new features or functionality to improve the user experience, or optimizing the website for new devices and platforms.
Visit Here: Tips for Developing an Ecommerce Website That Will Skyrocket Your Sales
14. Securing Your Website And Customer Data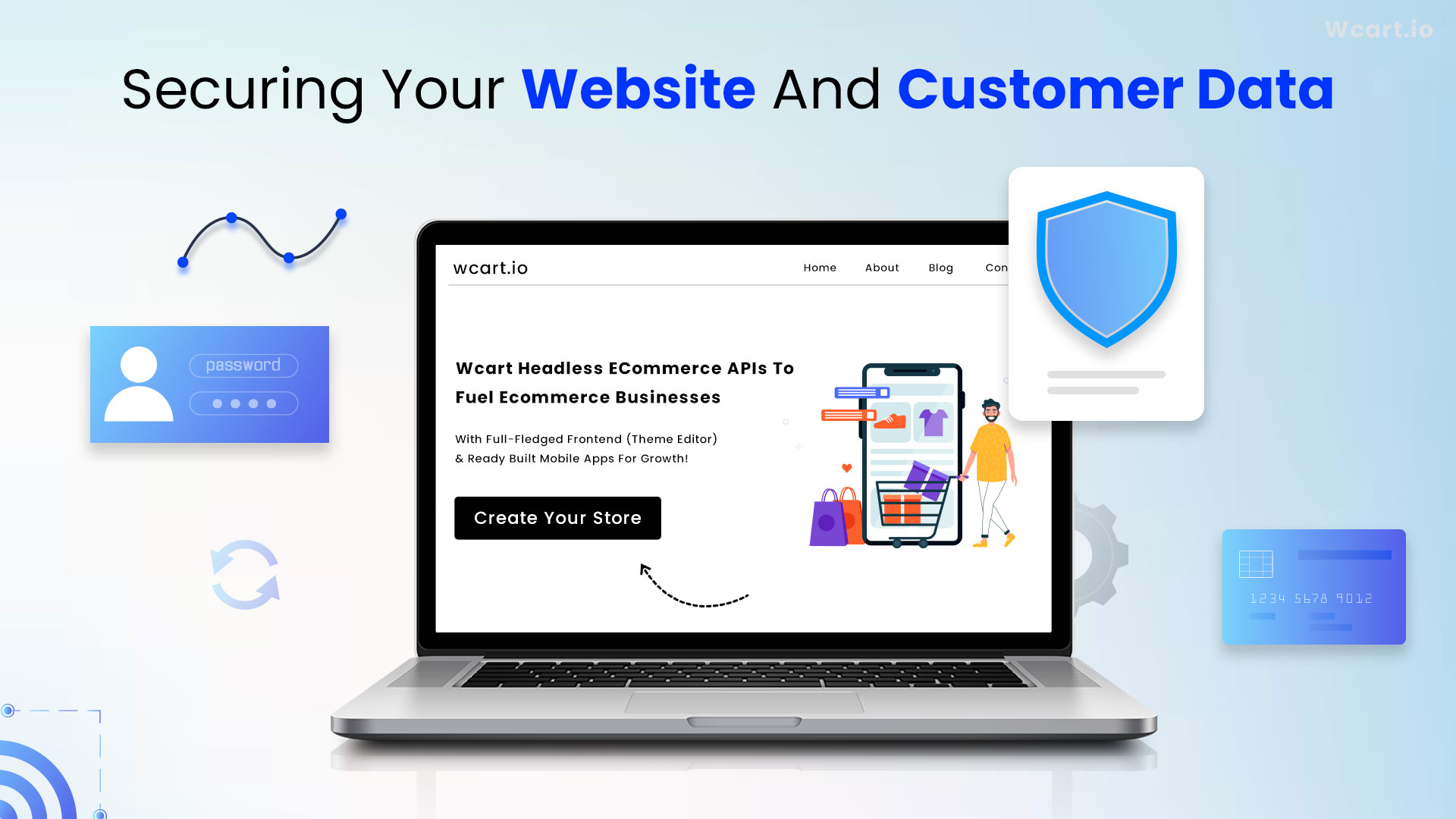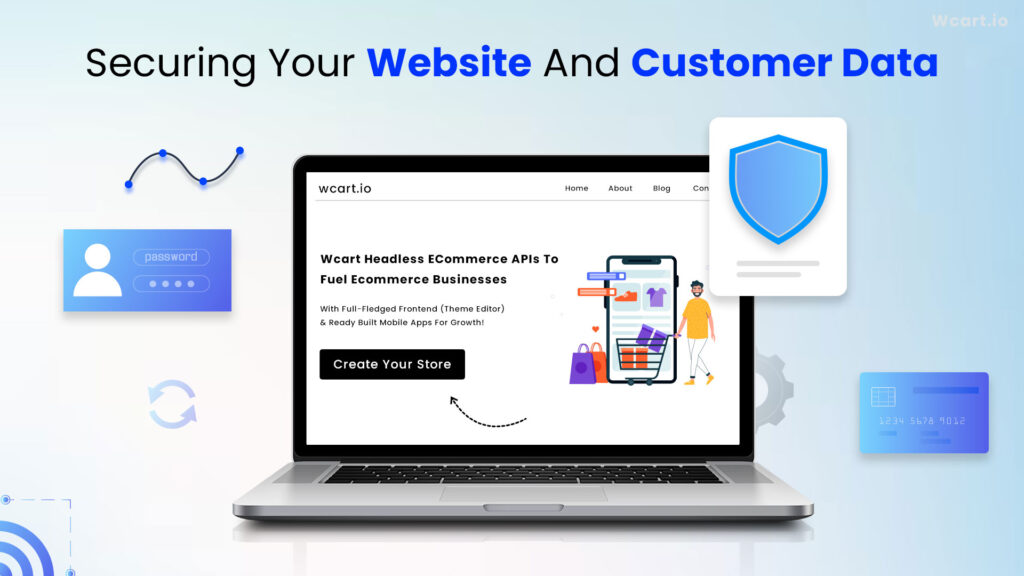 Some tips to ensure the security of your website and data:
Securing Your Website:
SSL encrypts data that is transmitted between a customer's browser and your website, making it difficult for hackers to intercept and steal sensitive information like passwords and credit card numbers.
Ensure that your website platform and any third-party applications and plugins are updated to their latest versions. This will help to patch any known security vulnerabilities.
Use strong passwords for all website logins, including your own and those of any employees or contractors who have access to your website.
Implementing two-factor authentication (2FA) adds an extra layer of security to your website logins by requiring users to enter a code generated by a separate device or app in addition to their password.
Securing Customer Data:
Collecting essential data can help to reduce the amount of sensitive information that you store on your website.
Use a secure payment gateway will help to protect your customers' credit card information.
Encrypt customer data that help to prevent data breaches and theft.
Implement a data backup plan that help to ensure and recover your data in the event of a security breach or other disaster.
15. Providing Customer Support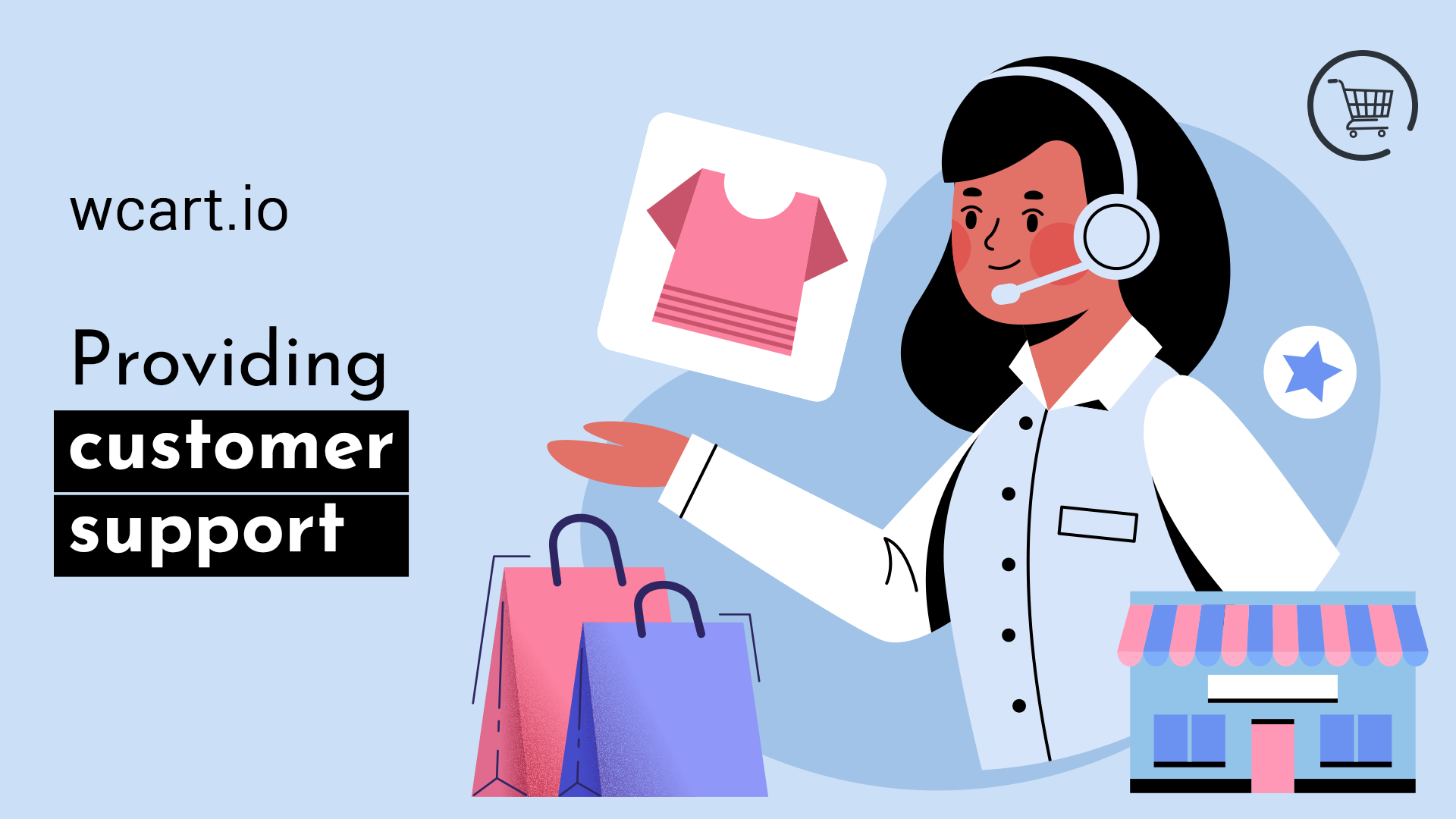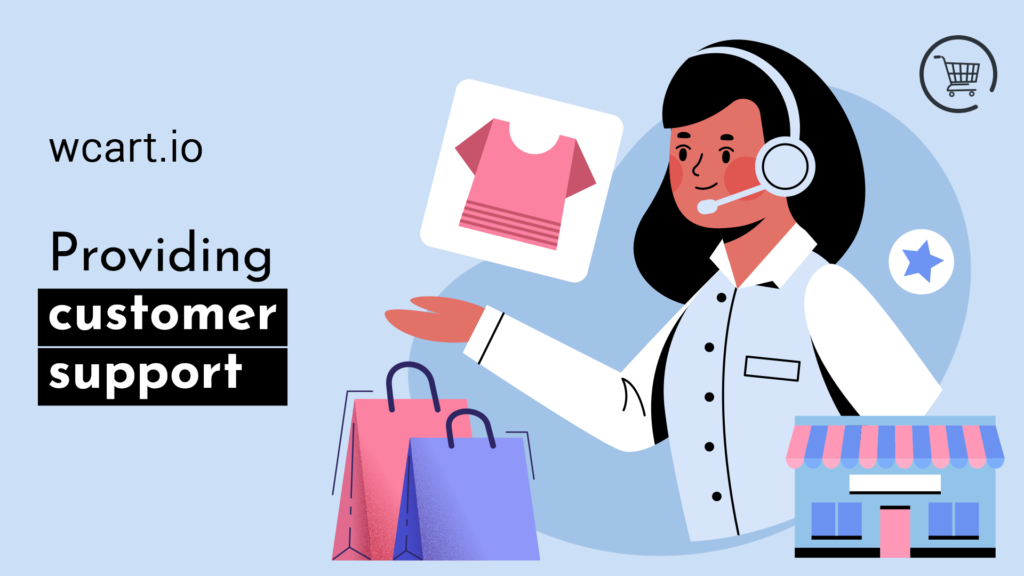 When building an ecommerce website, it's important to consider how you will provide customer support. Providing excellent customer service can help increase customer loyalty and improve your reputation.
Here are some customer support best practices that can help improve the customer experience on your ecommerce website:
Make it easy for customers to contact you by providing multiple support channels, such as email, phone, and live chat.
Aim to respond to customer inquiries within 24 hours, if not sooner.
Always be polite and professional when communicating with customers, even if they are unhappy.
Try to personalize your responses to customers by addressing them by name and using a friendly tone.
Provide self-help resources such as a knowledge base, FAQs, and video tutorials to help customers find answers to common questions.
Visit Here: Top 5 Benefits Of Personalization In Ecommerce With Examples
Conclusion
Building and maintaining a successful ecommerce website requires a combination of technical knowledge, design skills, marketing expertise, and customer service skills. It is important to create a website that is visually appealing, easy to navigate, and optimized for search engines. Providing exceptional customer service and maintaining a secure website can help build customer trust and loyalty. Contact Wcart Ecommerce experts and request a demo today!
Frequently Asked Questions (FAQs)
1. What are the essential features that every ecommerce website should have?
Essential features are user-friendly interface, search bar, product categories, product pages, shopping cart, secure checkout, payment gateway integration, customer reviews, and a contact page.
2. Which development platform is better for building an ecommerce website, custom development, or using a pre-built platform?
Custom development offers complete flexibility and customization but is more expensive and time-consuming. On the other hand, pre-built platforms like Wcart and Webnexs are more affordable and can be set up quickly.
3. How can I make my ecommerce website stand out from the competition?
Focus on creating a unique design that reflects your brand's personality and values. Offer exceptional customer service, optimize your website for search engines, and provide high-quality product images and descriptions.
4. What are the key factors to consider when choosing a web development company for building an ecommerce website?
Consider factors like experience and expertise, previous work quality, pricing, timeline, communication, project management skills, and ability to provide ongoing support and maintenance.
5. How important is responsive design for an ecommerce website?
It ensures that the website is optimized for all devices, including desktops, tablets, and smartphones. A website that is not mobile-friendly can result in a poor user experience and a decrease in sales.